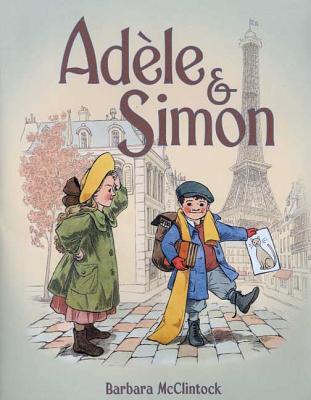 Adele & Simon (Hardcover)
Farrar Straus Giroux, 9780374380441, 40pp.
Publication Date: September 5, 2006
Description
When Simon's older sister, Adele, picks him up from school, he has his hat and gloves and scarf and sweater, his coat and knapsack and books and crayons, and a drawing of a cat he made that morning. Adele makes Simon promise to try not to lose anything. But as they make their way home, distractions cause Simon to leave something behind at every stop. What will they tell their mother?
Detailed pen-and-ink drawings - filled with soft watercolors - make a game of this unforgettable tour through the streets and scenes of early-twentieth-century Paris. Illustrated endpapers extend the fun by replicating a 1907 Baedeker map of Paris.
Adele & Simon is a 2006 New York Times Book Review Best Illustrated Book of the Year and a 2007 Bank Street - Best Children's Book of the Year.
About the Author
BARBARA MCCLINTOCK has written and illustrated several books for young readers, including Dahlia, a Boston Globe-Horn Book Award Honor Book. She is also the illustrator of many more. She lives in Windham, Connecticut.
Praise For Adele & Simon…
"[An] instant classic.  McClintock's illustrations . . . evoke the world of children's books our grandmothers handed down, by Randolph Caldecott or Emile Gaillard." —The New York Times Book Review
"Simon is a lucky kid—and so are the ones whose parents share this lovely book with them." —The Los Angeles Times
"The story is droll; the pen-and-ink drawings, glorious."
—Entertainment Weekly
"McClintock's story is fun to read, and her illustrations, rich with autumn colors and scenes, make this book a standout." —Scripps Howard News Service
"The illustrations are nonpareil." —The Miami Herald
"Muted old-world watercolors pay homage to a great city and a special relationship at the dawn of the 20th century." —The San Francisco Chronicle
"A gifted artist offers gorgeous pen-and-ink watercolor drawings of early 20th century Paris." —Buffalo News
"Parents will hunt for excuses to borrow this one." —St. Louis-Post Dispatch
"McClintock's beautifully restrained use of color may evoke a long-ago time, but her compositions are so dynamic there's always something for contemporary children to discover." —Starred, Booklist
 "Delightful . . . as enjoyable as a chocolate croissant."  —Starred, Kirkus Reviews
"McClintock scores a double coup, creating a must-see for francophiles and an engaging hide-and-seek game for homebodies."  —Starred, Publishers Weekly
"A beautiful example of bookmaking, with plenty to charm children, this is a visual delight."  —School Library Journal
"With its cozy, Kate Greenaway flavor and many minutiae to discover, this will be especially nice to share one on one." —The Horn Book
Advertisement