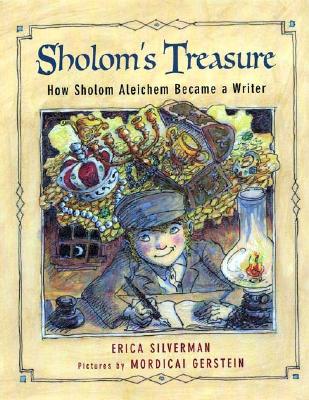 Sholom's Treasure (Hardcover)
How Sholom Aleichem Became a Writer
Farrar, Straus and Giroux (BYR), 9780374380557, 40pp.
Publication Date: February 24, 2005
* Individual store prices may vary.
Description
The boy whose stories became Fiddler on the Roof

Sholom Aleichem's favorite childhood memory may have been listening as his father read stories aloud on Saturday nights and a roomful of adults burst out laughing. Sholom wanted to make people laugh, too. At school he became the class clown. At home he imitated even his pious grandmother. But Sholom was also thoughtful. In Russia in the 1800s, life was especially difficult for Jews, and Sholom longed to help his father by finding a legendary hidden treasure. It turned out that Sholom Aleichem's destiny was to give his father a different kind of treasure - one of words and tales that to this day bring laughter to readers around the world.

This taut, focused biography of the young Sholom Aleichem is animated with the artist's quick, brilliant line and richly toned watercolors.
About the Author
Erica Silverman is the author of "Raisel's Riddle," illustrated by Susan Gaber. She lives in Los Angeles, California. Mordicai Gerstein is the author and illustrator of "The Man Who Walked Between the Towers," winner of the Caldecott Medal, and has had four books named "New York Times" Best Illustrated Books of the Year. He lives in Westhampton, Massachusetts.
Praise For Sholom's Treasure: How Sholom Aleichem Became a Writer…
"The story of this young imp, who was determined to do his father proud, will strike a chord with many. Silverman keeps her focus on the things about Aleichem's life that will appeal most to young readers. As in Aleichem's own stories, there's a universality here that transcends the borders of time and place." -- Starred, Booklist

"Silverman's text moves quickly, using dialogue adapted from Aleichem's own memoir. Gerstein's loose lines and bright colors bristle with energy and humor, presenting a wide-eyed boy who nevertheless possesses a wicked sense of fun. Most in the audience...will identify with the child's dual wishes to please his father and excel." -- Kirkus Reviews

"Sholom Aleichem's own story is told here with the wit and compassion for which he was himself known. The heartiness of the text...gives this biography an attractive warmth. Heavy shading and touches of white point up such focal points as faces and eyes...intensifying the viewer's emotional involvement in the story." - The Bulletin of the Center for Children's Books

"Mischievous Sholom's spirited personality comes alive both in Gerstein's drawings and Silverman's fluent text. An author's note, an afterward, and a bibliography round out this engaging portrait." - The Horn Book

"Silverman and Caldecott Medalist Gerstein make an ideal pairing. Silverman's accessible prose keeps a narrative dense with incidents and people moving along briskly. Gerstein's fluid, exuberant pen-and-ink and watercolor wash illustrations...literally illuminate the story." -- Publishers Weekly
"Enchanting...a seamless collaboration." -- Starred, School Library Journal

"This book underscores the power of reading and writing as a way of giving laughter, joy, and treasures to the world." -- Reading Teacher
or
Not Currently Available for Direct Purchase