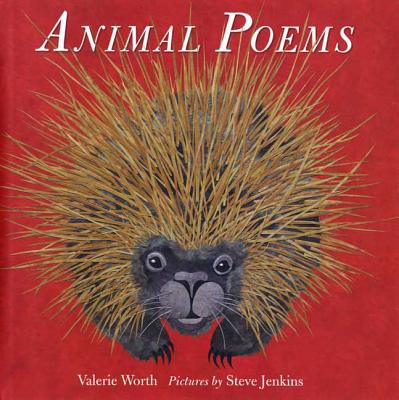 Animal Poems (Hardcover)
Farrar, Straus and Giroux (BYR), 9780374380571, 48pp.
Publication Date: March 20, 2007
* Individual store prices may vary.
Description
"Ms. Worth brilliantly employs all aspects of the poet's craft." – The New York Times Book Review
Each of the exquisite twenty-three poems in this posthumous collection by Valerie Worth carefully distinguishes one animal from all other creatures and captures it in all of its wonderful singularity – from wasp to snake to wren. The way Worth perfectly illuminates the uniqueness of each animal in her precise and elegant free verse will delight both fans of her celebrated Small Poems and readers encountering her poetry for the first time.
Breathtakingly rich cut-paper illustrations by Steve Jenkins provide a perfect counterpoint to Worth's spare style, and together poetry and picture bring every animal vividly to life.
Animal Poems is a 2008 Bank Street - Best Children's Book of the Year.
About the Author
STEVE JENKINS has written and illustrated many picture books, including
Actual Size
and the Caldecott Honor Book
What Do You Do with a Tail Like This?
He lives in Boulder, Colorado.
Valerie Worth (1933-1994)
Acclaimed poet Valerie Worth was born in Philadelphia, Pennsylvania, and grew up in nearby Swarthmore, where her father taught biology at Swarthmore College. The family then moved to Tampa, Florida, and Bangalore, India, where they lived for one year. Valerie returned to Swarthmore to attend college, graduating with an English degree and High Honors. Shortly thereafter she married George Bahlke, a fellow Swarthmore graduate. After settling in Clinton, NY, Valerie met Natalie Babbitt at Kirkland College, and Natalie began to illustrate Valerie's work, starting with Small Poems in 1972. Three more volumes followed: More Small Poems (1976); Still More Small Poems (1978); and Small Poems Again (1986). All four volumes were issued in a single paperback, All the Small Poems (1987), and seven years later, All the Small Poems and Fourteen More was released and was then followed by a paperback edition in 1996. In 2002, FSG posthumously published Peacock and Other Poems by Valerie Worth, with pictures by Natalie Babbitt, a collection of 27 poems which Publishers Weekly, in a starred review, said "heralds the joy of words." School Library Journal, in a starred review, declared that "[Valerie Worth's] work gives children something to admire and aim for."
Valerie Worth was honored by the National Council of Teachers of English (NCTE) in 1991 with its Poetry Award for Excellence in Poetry for Children, which acknowledges a body of work.
Praise For Animal Poems…
"This stunning collection will encourage readers to become careful observers, and to make the world of nature their own." —Starred, Publishers Weekly
"Vivid imagery and an expert command of sound and meter distinguish this collection of poems about animals." —Starred, Booklist
"Will resonate with poetry lovers, but should also open doors for those who feel daunted by poetry." —Starred, School Library Journal, April 2007
"The works of Valerie Worth stand out as quiet portraits capturing the essence of the most ordinary subjects." —Book Links, March 2007
"Impressive and regal." —The Horn Book, May / June 2007
"The cut-paper illustrations are as rich in detail and color as the poetry they accompany." —Kiwi Magazine