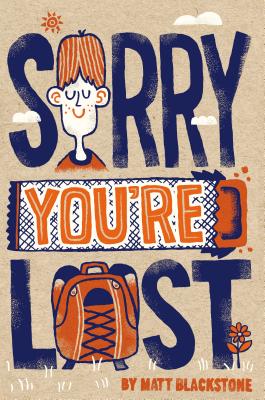 Sorry You're Lost (Hardcover)
Farrar, Straus and Giroux (BYR), 9780374380656, 320pp.
Publication Date: January 21, 2014
* Individual store prices may vary.
Description
When Denny "Donuts" Murphy's mother dies, he becomes the world's biggest class clown. But deep down, Donuts just wants a normal life—one where his mom is still alive and where his dad doesn't sit in front of the TV all day. And so Donuts tries to get back into the groove by helping his best friend with their plan to get dates for the end-of-the-year school dance. When their scheme backfires, he learns that laughter is not the best medicine for all of his problems. Sometimes it's just as important to be true to yourself.
About the Author
Matt Blackstone joined Teach for America after graduating from the University of Pennsylvania, and presently teaches high school English in the South Bronx. He lives in New York City. He is the author of A Scary Scene in a Scary Movie and Sorry You're Lost.
Praise For Sorry You're Lost…
"A story of substance and hope." —The Horn Book
"Nothing short of heartbreakingly authentic." —Booklist
"Blackstone returns with a humorous and graceful novel . . . The novel's middle-school dynamics are particularly strong, especially Denny's relationships with his oddball and entrepreneurial best friend Manny--who talks like an aristocrat and cons Denny into selling candy in the halls--and Denny's crush, the studious Sabrina. Denny and his father's inability to communicate, despite their shared loss, lends a stark and raw tension that eventually boils to the surface in this poignant account of a boy grappling with a gaping void in his life. " —Publishers Weekly
"For middle school readers, a painful, funny and realistic picture of a family coming to terms with loss." —Kirkus Reviews
"Sorry You're Lost is that most rare of books: it is honest. Oh, I could go on and on about the amazing voice of Donuts Murphy, and the astonishing cast of characters, and the hilarious plot Donuts embarks upon. But it is the honesty of the book that stops us short: Truth #1: the world is not fair. Truth #2: bad things happen. And Truth #3: we must make our way even if Truth #1 and Truth #2 have smacked us in the face. But this story does not stop with that. There's Truth #4: this novel, with humor and sadness and healing and reality and sweetness, wonderfully proclaims, Life is flabbergasting." —Gary Schmidt, two-time Newbery Honor-winning author of The Wednesday Wars and Lizzie Bright and the Buckminster Boy
"Sorry You're Lost is overflowing with emotion, energy, and voice. It's all at once surprisingly funny, yet sad, uncomfortably open and honest, and ultimately endearing. It will likely be one of the best books you read this year." —Chris Rylander, author of The Fourth Stall
"Sorry You're Lost spins candy straws into gold, delivering an up close and original look at a boy coming to terms with loss. Through funny scenes, sad scenes, and candy schemes, from antics and avoidance to awareness and acceptance, readers take the journey with Denny." —Michael Northrop, author of Trapped and Plunked
or
Not Currently Available for Direct Purchase