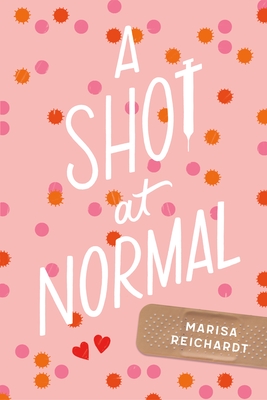 A Shot at Normal
Hardcover

* Individual store prices may vary.
Description
Marisa Reichardt's A Shot at Normal is a powerful and timely novel about justice, agency, family, and taking your shot, even when it seems impossible.

Dr. Villapando told me to get a good attorney. He wasn't serious. But I am. I'm going to sue my parents.

Juniper Jade's parents are hippies. They didn't attend the first Woodstock, but they were there for the second one. The Jade family lives an all-organic homeschool lifestyle that means no plastics, no cell phones, and no vaccines. It isn't exactly normal, but it's the only thing Juniper has ever known. She doesn't agree with her parents on everything, but she knows that to be in this family, you've got to stick to the rules. That is, until the unthinkable happens.

Juniper contracts the measles and unknowingly passes the disease along, with tragic consequences. She is shell-shocked. Juniper knows she is responsible and feels simultaneously helpless and furious at her parents, and herself.

Now, with the help of Nico, the boy who works at the library and loves movies and may just be more than a friend, Juniper comes to a decision: she is going to get vaccinated. Her parents refuse so Juniper arms herself with a lawyer and prepares for battle. But is waging war for her autonomy worth losing her family? How much is Juniper willing to risk for a shot at normal?
Praise For A Shot at Normal…
"A sweet romance with Nico, a boy she meets at the library, keeps the tone breezy and the story moving along at a good pace. In light of the Covid-19 pandemic and news stories about the rise in anti-vaccination movements, this novel presents a timely and important examination of the role of personal responsibility in public health in addition to including a thoughtful discussion about bodily autonomy." —Kirkus Reviews

"Told in a linear narrative from summer until spring, Juniper's moral quandary and lived experiences fill vividly episodic and succinct chapters. VERDICT As readers live with coronavirus and newfound knowledge of communicable disease, this timely novel deftly explores issues of vaccination, misinformation, how personal medical choices can affect others, and the time-tested theme of belonging outside of the family unit." —School Library Journal

"Reichardt (Aftershocks, 2020) makes a complex, hot-button subject accessible while still maintaining nuance . . . Socially conscious teens will enjoy this story of a girl finding her power and taking a big issue into her own hands despite the mature structures that stand in her way." —Booklist
Farrar, Straus and Giroux (BYR), 9780374380953, 352pp.
Publication Date: February 16, 2021
About the Author
Marisa Reichardt lives in Southern California with her family. Underwater was her debut novel.