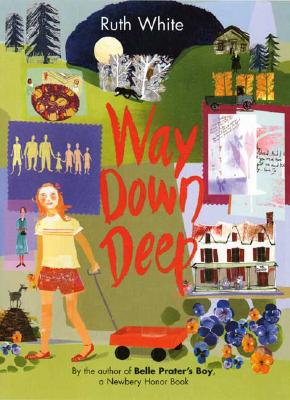 Way Down Deep
Hardcover

* Individual store prices may vary.
Description
Although Ruby seemed to just appear out of thin air on the steps of the courthouse on the first day of summer in 1944, no one in Way Down Deep, West Virginia, ever worried too much about where the toddler came from. They figured that if Ruby's people were dumb enough to lose something as valuable as a child, then that was their problem. So even though Ruby can't help but wonder where she came from, she has led a joyful and carefree life in Way Down Deep, loved and watched over by Miss Arbutus - proprietor of The Roost, the local boardinghouse - the residents of The Roost, and the rest of the town. But when Ruby is twelve, a new family moves to Way Down Deep, and they inadvertently provide enough clues about Ruby's past that she is able to find her own people. Ruby travels from Way Down Deep to the top of Yonder Mountain to learn who she really is - only to find that she is bound to Way Down Deep by something even stronger than family ties: love.
With a touch of fairy-tale magic and a lot of heart, Ruth White explores just what it is that makes a place truly home.
"Way Down Deep" is a 2008 Bank Street - Best Children's Book of the Year.
Praise For Way Down Deep…
"Both fable and mystery, Way Down Deep is simply irresistible, as plucky orphan Ruby June searches for the secret of her past, deeply entwined with an entire community worthy of Dickens. Funny, sweet, and filled with the heart's own truths, this is the best book yet from the queen of Appalachian storytelling." --Lee Smith, author of On Agate Hill and Fair and Tender Ladies "A tale of magical beginnings and the everyday magic of an ordinary place populated by a colorful cast of characters worthy of Dickens. A story to love." --Starred, Kirkus Reviews "At the heart of the story are profound questions that readers will enjoy puzzling out." --Starred, Booklist "Captivating and thoughtful on many levels, White's novel offers humor, mystery, and a feel-good ending that a multitude of readers will find satisfying 'way down deep.' " --School Library Journal "Has its own memorable charm."--The Horn Book "White's humor is wise and gentle . . . Goats, children, readers, disappointed old men, and crotchety old women--all find a warm welcome in Way Down Deep."--The Bulletin of the Center for Children's Books "Ruth White . . . narrates in a voice that is not condescending by wryly knowing, as if she's Flannery O'Connor for the younger set."--Chicago Tribune "Peopled with delightfully quirky characters, this short novel caputres the authentic cadences of Appalachia." --VOYA "You easily fall in love with the little town of Way Down Deep." --A YALSA YA Galley Teen Reader "This book has a great plot. I love the small hometown-feeling of the story and all of the characters . . . this book was great!" --A YALSA YA Galley Teen Reader "This is one of my favorite books --I felt like I was really in Way Down Deep.." --A YALSA YA Galley Teen Reader
Farrar, Straus and Giroux (BYR), 9780374382513, 208pp.
Publication Date: March 20, 2007
About the Author
RUTH WHITE is the author of many award-winning books for children and young adults, including the Newbery Honor Book "Belle Prater's Boy" and its sequel, "The Search for Belle Prater." She lives in Hummelstown, Pennsylvania.
or
Not Currently Available for Direct Purchase