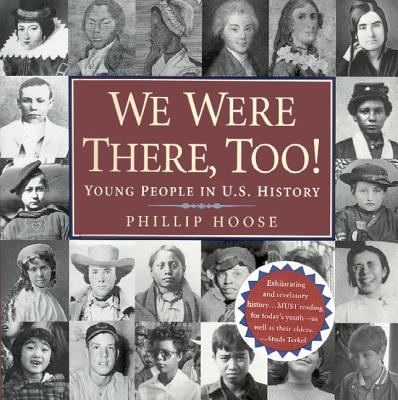 We Were There, Too!: Young People in U.S. History (Hardcover)
Young People in U.S. History
Farrar, Straus and Giroux (Byr), 9780374382520, 276pp.
Publication Date: August 8, 2001
Description
"This may be the most exhilarating and revelatory history of our country. It is must reading for today's youth-as well as their elders." --Studs Terkel
From the boys who sailed with Columbus to today's young activists, this unique book brings to life the contributions of young people throughout American history. Based on primary sources and including 160 authentic images, this handsome oversized volume highlights the fascinating stories of more than 70 young people from diverse cultures. Young readers will be hooked into history as they meet individuals their own age who were caught up in our country's most dramatic moments-Olaudah Equiano, kidnapped from his village in western Africa and forced into slavery, Anyokah, who helped her father create a written Cherokee language, Johnny Clem, the nine-year-old drummer boy who became a Civil War hero, and Jessica Govea, a teenager who risked joining Cesar Chavez's fight for a better life for farmworkers. Throughout, Philip Hoose's own lively, knowledgeable voice provides a rich historical context-making this not only a great reference-but a great read. The first U.S. history book of this scope to focus on the role young people have played in the making of our country, its compelling stories combine to tell our larger national story, one that prompts Howard Zinn, author of A People's History of the United States, to comment, "This is an extraordinary book-wonderfully readable, inspiring to young and old alike, and unique."
We Were There, Too is a 2001 National Book Award Finalist for Young People's Literature.
About the Author
Phillip Hoose is an award-winning author of books, essays, stories, songs and articles. Although he first wrote for adults, he turned his attention to children and young adults in part to keep up with his own daughters. His book Claudette Colvin won a National Book Award and was dubbed a Publishers Weekly Best Book of 2009. He is also the author of Hey, Little Ant, co-authored by his daughter, Hannah, It's Our World, Too!, and The Race to Save the Lord God Bird. We Were There, Too! was a National Book Award finalist. He has received a Jane Addams Children's Book Award, a Christopher Award, and a Boston Globe-Horn Book Award, among numerous honors. He was born in South Bend, Indiana, and grew up in the towns of South Bend, Angola, and Speedway, Indiana. He was educated at Indiana University and the Yale School of Forestry. He lives in Portland, Maine.
Praise For We Were There, Too!: Young People in U.S. History…
"A treasure chest of history come to life, this is an inspired collection. Readers could easily get lost in it by simply dipping into one compelling story after another . . . Because the book is packed with historical documents, evocatively illustrated . . . and full of eyewitness quotations, it should prove valuable to young historians and researchers." -Starred, School Library Journal
Advertisement