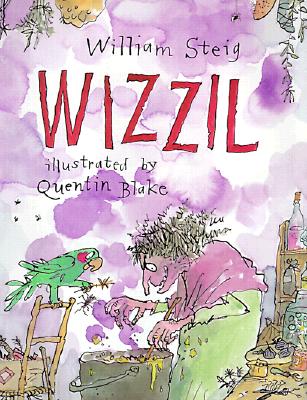 Wizzil (Hardcover)
Farrar, Straus and Giroux (Byr), 9780374384661, 32pp.
Publication Date: August 23, 2000
Description
An exciting collaboration
Wizzil, a witch, is bored stiff. So, with some coaxing from Beatrice, her parrot, she turns herself into a common housefly and heads over to Frimp farm to stir up trouble. Little does she know, DeWitt Frimp absolutely hates all breeds of fly, especially Musca domestica, and Wizzil narrowly escapes a life-threatening swatting. Wasting no time at all, she cooks up a nasty plan to teach DeWitt a lesson: she turns herself into a glove, which DeWitt finds and proudly wears, but which also deprives him of the ability to aim his flyswatter. Steig's playful storytelling voice is in full gear in his latest tale, and Quentin Blakes hilarious, antic pictures are a perfect match for the text.
About the Author
William Steig (1907-2003) was a cartoonist, illustrator and author of award-winning books for children, including Shrek!, on which the DreamWorks movies are based. Steig was born in New York City. Every member of his family was involved in the arts, and so it was no surprise when he decided to become an artist. He attended City College and the National Academy of Design. In 1930, Steig's work began appearing in The New Yorker, where his drawings have been a popular fixture ever since. He published his first children's book, Roland the Minstrel Pig, in 1968. In 1970, Steig received the Caldecott Medal for Sylvester and the Magic Pebble. His books for children also include Dominic; The Real Thief; The Amazing Bone, a Caldecott Honor Book; Amos & Boris, a National Book Award finalist; and Abel's Island and Doctor De Soto, both Newbery Honor Books. Steig's books have also received the Christopher Award, the Irma Simonton Black Award, the William Allen White Children's Book Award, and the American Book Award. His European awards include the Premio di Letteratura per l'infanzia (Italy), the Silver Pencil Award (the Netherlands), and the Prix de la Fondation de France. On the basis of his entire body of work, Steig was selected as the 1982 U.S. candidate for the Hans Christian Andersen Medal for Illustration and subsequently as the 1988 U.S. candidate for Writing. Stieg also published thirteen collections of drawings for adults, beginning with About People in 1939, and including The Lonely Ones, Male/Female, The Agony in the Kindergarten, and Our Miserable Life. He died in Boston at the age of 95.Quentin Blake is Childrens Laureate of Great Britain, has won the Kate Greenaway Medal, and is the author and/or illustrator of many books. He lives in London, England.
Praise For Wizzil…
"Old Wizzel the witch's hair sticks up from her head in unkempt spikes; her chosen victim, retired farmer DeWitt Frimp, is bald,; but both author and illustrator have let their hair down for this tale of mischief, revenge, and redemption . . . In short, Wizzil is literary ambrosia. Blake's pen-and-ink and watercolor illustrations, full of energy and humor and movement are sublime." --Starred, The Horn Book
Advertisement