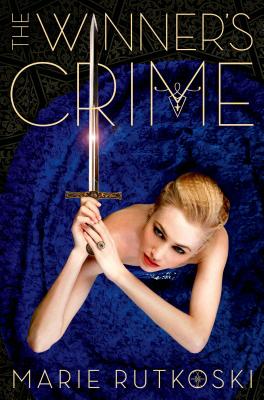 The Winner's Crime (The Winner's Trilogy #2) (Hardcover)
Farrar, Straus and Giroux (BYR), 9780374384708, 416pp.
Publication Date: March 3, 2015
* Individual store prices may vary.
Description
Following your heart can be a crime
A royal wedding is what most girls dream about. It means one celebration after another: balls, fireworks, and revelry until dawn. But to Kestrel it means living in a cage of her own making. As the wedding approaches, she aches to tell Arin the truth about her engagement: that she agreed to marry the crown prince in exchange for Arin's freedom. But can Kestrel trust Arin? Can she even trust herself? For Kestrel is becoming very good at deception. She's working as a spy in the court. If caught, she'll be exposed as a traitor to her country. Yet she can't help searching for a way to change her ruthless world . . . and she is close to uncovering a shocking secret.
This dazzling follow-up to The Winner's Curse reveals the high price of dangerous lies and untrustworthy alliances. The truth will come out, and when it does, Kestrel and Arin will learn just how much their crimes will cost them.
About the Author
Marie Rutkoski is the author of The Kronos Chronicles, including The Cabinet of Wonders and The Celestial Globe. The Cabinet of Wonders, her debut novel, was named an Indie Next Kids' List Great Read and a Bank Street Best Children's Book of the Year, among other honors. Rutkoski grew up in Bolingbrook, Illinois (a suburb of Chicago), as the oldest of four children. She attended the University of Iowa, where she took Writers' Workshop classes and studied with Pulitzer Prize-winner James Alan McPherson. After graduating, she lived in Moscow and Prague. Upon receiving her Ph.D. from Harvard University, she held dual appointments as a lecturer there in both English and American Literature and Language, and History and Literature. Rutkoski is currently a professor at Brooklyn College, where she teaches Renaissance Drama, children's literature and creative writing. She lives in New York City with her husband and cat.
Praise For The Winner's Crime (The Winner's Trilogy #2)…
"The cliffhanger ending of this second installment guarantees an anxious audience for the arrival of the third book." —BCCB
"Rutkoski's well-written prose is sumptuous . . . The shocking ending will leave readers hungry for the sequel." —VOYA
"The Winner's Crime teeters on a knife-sharp edge between devastatingly romantic one moment and simply devastating the next. Marie Rutkoski has captivated me with her world of mind games, power struggles, and espionage, and left me positively desperate to see how Kestrel and Arin's story will play out." —Marissa Meyer, New York Times-bestselling author of the Lunar Chronicles series
"Brilliant plotting and absolutely gorgeous writing combine to make The Winner's Crime a standout, but it is the complex, deeply layered characters with their gut wrenching dilemmas and impossible choices that cracked my heart wide open. It left me breathless and craving more--I don't know how I will be able to wait for the final book. A truly unforgettable read!" —Robin LaFevers, New York Times–bestselling author of Grave Mercy and Dark Triumph
"The twisty plot is a cleverly constructed puzzle box of intrigue and deceit, couched in graceful prose that shifts from restrained to voluptuous. The diversity both between and within the various cultures suggests a richly detailed world; yet as the fate of peoples, kingdoms and empires hangs in the balance, the conflict plays out at the most intimate personal level in the reluctant, dangerous, impossible attraction between Kestrel and Arin . . . As positions harden and blood is shed, their destruction at each other's hands looms ever more certain; but a desperate hope that somehow disaster can be averted propels readers to the final devastating page, leaving only the excruciating wait for the sequel. Enthralling, agonizing and incandescent." —Starred review/Kirkus Reviews