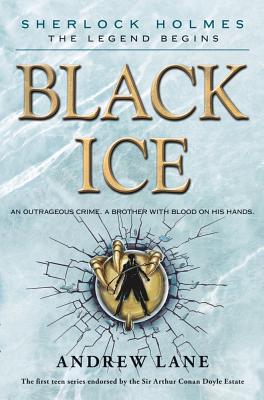 Black Ice (Sherlock Holmes (Hardcover)
The Legend Begins #3)
Farrar, Straus and Giroux (BYR), 9780374387693, 288pp.
Publication Date: January 22, 2013
Other Editions of This Title:
Digital Audiobook (2/18/2013)
Paperback (9/17/2013)
CD-Audio (2/19/2013)
Other (1/1/2013)
* Individual store prices may vary.
Description
A third case for teen Sherlock involves a heinous crime . . . and a brother with blood on his hands
When Sherlock and Amyus Crowe, his American tutor, visit Sherlock's brother, Mycroft, in London, all they are expecting is lunch and some polite conversation. What they find shocks both of them to the core: a locked room, a dead body, and Mycroft holding a knife. The police are convinced Mycroft is a vicious murderer, but Sherlock is just as convinced he is innocent. Threatened with the gallows, Mycroft needs Sherlock to save him. The search for the truth necessitates an incredible journey, from a railway station for dead bodies in London all the way to the frozen city of Moscow—where Sherlock is afoot in a world of secrets and danger.
Black Ice is the third book in Andrew Lane's series Sherlock Holmes: The Legend Begins.
About the Author
Andrew Lane is the author of the Young Sherlock Holmes series of young adult novels, starting with Death Cloud. He has also written numerous spin-off novels based on the BBC sci-fi television series Doctor Who, as well as definitive guides to Babylon 5 and the Wallace and Gromit films, and is the author of The Bond Files: An Unofficial Guide to the World's Greatest Secret Agent. He lives in Dorset, England.
Praise For Black Ice (Sherlock Holmes: The Legend Begins #3)…
"A solid mix of adventure and character, this may be the best in the series so far." —Booklist
"Sherlock Holmes fans will enjoy the electrifying adventure and value the insights into the character traits that make the adult Holmes so fascinating." —Kirkus
"What a blast. Weird murders, creepy villains, fiendish puzzles, non-stop action. What more could you want from a book?" —Charlie Higson, author of the internationally bestselling Young Bond series on Death Cloud and Rebel Fire
"Should impress the detective's fans of all ages . . . An elementary success story." —The Independent (London) on Death Cloud and Rebel Fire
"Death Cloud is the perfect way to introduce this character to a new generation of book readers." —Book Zone (for Boys) on Death Cloud and Rebel Fire
"Rich in period detail, it has tasters of Holmes's deductive genius and insights into how his character was made, plus a diabolical villain . . . A self-contained and rewarding adventure." —The Sunday Times (London) on Death Cloud and Rebel Fire
"Sir Arthur Conan Doyle left many clues to Sherlock Holmes's origins in his tales, but it has taken Andrew Lane to do the detective work of ferreting them out and fitting them together into an intelligent, authentic, persuasive, and downright exciting depiction of the English boy who will one day become Mr. Sherlock Holmes of 221B Baker Street, London, the world's first consulting detective. Lane's teen Sherlock Holmes comes to life in Death Cloud and the other volumes to come in the series: it is a profile Conan Doyle would not only recognize, but greet enthusiastically as consistent with his own image of the character. So it is with both pleasure and pride that his Estate endorses these books for young adult readers, who will become readers of Sir Arthur's own Sherlock Holmes stories in turn." —The Conan Doyle Estate on Death Cloud and Rebel Fire
or
Not Currently Available for Direct Purchase