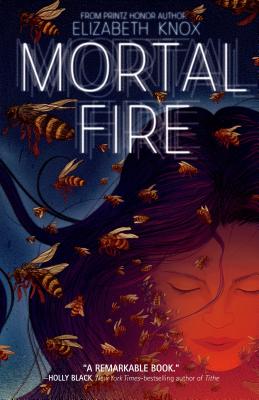 Mortal Fire (Hardcover)
Farrar Straus Giroux, 9780374388294, 436pp.
Publication Date: June 11, 2013
* Individual store prices may vary.
Description
Sixteen-year-old Canny Mochrie's parents go away on a vacation, so they send her off on a trip of her own with her step-brother Sholto and his opinionated girlfriend Susan, who are interviewing the survivors of a strange coal mine disaster and researching local folklore in 1959 Southland, New Zealand. Canny is left to herself to wander in a mysterious and enchanting nearby valley, occupied almost entirely by children who all have the last name Zarene and can perform a special type of magic that tells things how to be stronger and better than they already are. With the help of a seventeen-year-old boy who is held hostage in a hidden away house by a spell that is now more powerful than the people who first placed it, Canny figures out why she, too, can use this special magic that only Zarenes should know, and where she really came from. Printz Honor author Elizabeth Knox has created another stunning world of intrigue in Mortal Fire.
About the Author
Elizabeth Knox is the author of the Dreamhunter Duet, which Stephanie Meyer called "like nothing else I've ever read." Dreamquake was a Printz Honor novel. Elizabeth lives in Wellington, New Zealand.
Praise For Mortal Fire…
"I love this book with all of my heart, which is not that surprising, since Elizabeth Knox wrote it. I love all of her books. Mortal Fire and its heroine, Canny, are that rare thing: real magic."—Kelly Link, author of Pretty Monsters
"Knox fans (and we are legion) who've been longing for another visit to the Southland of the Dreamhunter Duet should fall upon Mortal Fire with cries of glee. This book is finely wrought magic from start to finish. It has brains; it has heart; it has people to fear and to fall in love with, and it all takes place in a totally beguiling world full of natural beauties, glittering puzzles, and earthy problems. It's a rich and satisfying read."—Margo Lanagan, Printz Honor Award-winning author of Tender Morsels
"A remarkable book."--Holly Black, New York Times bestselling author of Tithe
"Knox returns to the world she so vividly created in the Dreamhunter Duet for this standalone novel. . . The prose is lush and descriptive, the characters are drawn with finesse, the plot is a series of riddles nested within one another like Russian dolls." -- The Horn Book
"Intense, complex." -- Kirkus Reviews
 "Absorbing." -- School Library Journal
or
Not Currently Available for Direct Purchase