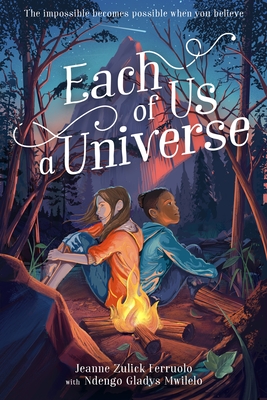 Each of Us a Universe
Hardcover

* Individual store prices may vary.
Other Editions of This Title:
Digital Audiobook (1/31/2022)
Paperback (3/28/2023)
MP3 CD (2/11/2022)
Description
A heartfelt middle grade from Jeanne Zulick Ferruolo about two girls who go on an adventure to the top of a mountain, and learn about each other, themselves, and the magic friendship can bring, perfect for fans of Katherine Applegate and Barbara O'Connor.

What do you do when you're facing the impossible?

Ever since the day when everything changed, Cal Scott's answer has been to run—run from her mother who's fighting cancer, run from her father whom she can't forgive, and run from classmates who've never seemed to "get" her anyway. The only thing Cal runs toward is nearby Mt. Meteorite, named for the magical meteorite some say crashed there fifty years ago. Cal spends her afternoons plotting to summit the mountain, so she can find the magic she believes will make the impossible possible and heal her mother. But no one has successfully reached its peak—no one who's lived to tell about it, anyway.

Then Cal meets Rosine Kanambe, a girl who's faced more impossibles than anyone should have to. Rosine has her own secret plan for the mountain and its magic, and convinces Cal they can summit its peak if they work together. As the girls climb high and dig deep to face the mountain's challenges, Cal learns from Rosine what real courage looks like, and begins to wonder if the magic she's been looking for is really the kind she needs.

Each of Us a Universe by Jeanne Zulick Ferruolo is a glowing story of friendship, inner strength, and what happens when the impossible becomes possible.
Praise For Each of Us a Universe…
"An immediately compelling story, full of breathtaking descriptions of the natural world and unafraid to tackle big topics. Cal is allowed a full range of emotions about her situation, from deep love to terrible resentment, and Rosine makes for a remarkable and resilient counterpoint (Mwilelo drew on her own experiences as a refugee to tell Rosine's story). Above all, it's a reminder that life can be imbued with a sense of wonder, even in its most difficult moments." —Booklist

"Along with incorporating their personal experiences, the co-authors enrich their tale with specific technical details about both rock climbing and, referencing Carl Sagan and the popular saying that 'we are made of stardust,' the micrometeorites that continually filter down around us. They acknowledge the Covid-19 pandemic by setting their story in an economically stricken New England town whose diverse residents are actively pitching in to support one another . . . A tribute to the value of a friend willing to pull and push when the going gets rocky." —Kirkus Reviews
Farrar, Straus and Giroux (BYR), 9780374388683, 320pp.
Publication Date: February 1, 2022
About the Author
Jeanne Zulick Ferruolo is the author of A Galaxy of Sea Stars and Ruby in the Sky, which earned two starred reviews and which Booklist called "quietly magical." She is also a volunteer with IRIS-Integrated Refugee & Immigrant Services in New Haven, Connecticut. She lives in Ellington, Connecticut, with her family.

Ndengo Gladys Mwilelo is a refugee from Democratic Republic of Congo. As an Ambassador with IRIS-Integrated Refugee and Immigrant Services, she does speaking engagements throughout Connecticut. She also volunteers with IRIS. She is a graduate of Central Connecticut State University and lives in New Haven with her family.