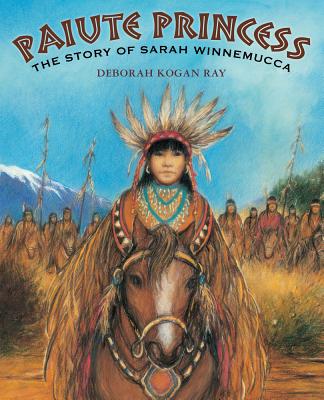 Paiute Princess: The Story of Sarah Winnemucca (Hardcover)
The Story of Sarah Winnemucca
Farrar Straus Giroux, 9780374398972, 48pp.
Publication Date: May 8, 2012
Description
Born into the Northern Paiute tribe of Nevada in 1844, Sarah Winnemucca straddled two cultures: the traditional life of her people, and the modern ways of her grandfather's white friends. Sarah was smart and good at languages, so she was able to link the worlds. As she became older, this made her a great leader. Sarah used condemning letters, fiery speeches, and her autobiography, Life Among the Piutes, to provide detailed accounts of her people's turmoil through years of starvation, unjust relocations, and violent attacks. With sweeping illustrations and extensive backmatter, including hand-drawn maps, a chronology, archival photographs, an author's notes, and additional resource information, Deborah Kogan Ray offers a remarkable look at an underrepresented historical figure.
About the Author
Deborah Kogan Ray's distinctive picture book biographies include Dinosaur Mountain and Down the Colorado. She lives in Wyndmoor, Pennsylvania.
Praise For Paiute Princess: The Story of Sarah Winnemucca…
"...will assist readers in developing a broader context in which to place Winnemucca's personal struggle."--BCCB
"An essential purchase, providing a new perspective on westward expansion and insight into the life of an inspiring but little-known civil rights crusader."--School Library Journal, starred
"Powerful language and blazing orange, earth, and jewel-toned chalk drawings create a stirring testament to one individual's conviction."--Booklist
 "Powerful language and blazing orange, earth, and jewel-toned chalk drawings create a stirring testament to one individual's conviction."--Publishers Weekly, starred "A compelling introduction to an extraordinary leader."--Kirkus
Advertisement