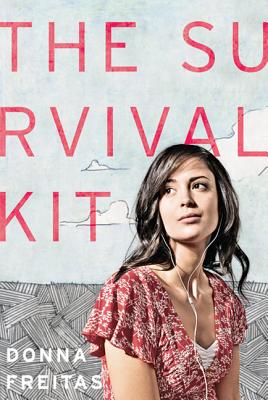 The Survival Kit (Hardcover)
Farrar Straus Giroux, 9780374399177, 351pp.
Publication Date: October 11, 2011
Description
When Rose's mom dies, she leaves behind a brown paper bag labeled Rose's Survival Kit. Inside the bag, Rose finds an iPod, with a to-be-determined playlist; a picture of peonies, for growing; a crystal heart, for loving; a paper star, for making a wish; and a paper kite, for letting go.
As Rose ponders the meaning of each item, she finds herself returning again and again to an unexpected source of comfort. Will is her family's gardener, the school hockey star, and the only person who really understands what she's going through. Can loss lead to love?
About the Author
Donna Freitas has been a professor at Boston University and at Hofstra in New York. She is currently splitting her time between Barcelona and New York and writing full time.
Praise For The Survival Kit…
"…a heartfelt…story of loss and love." --School Library Journal "A worthy addition for a teen coping with her own loss or struggling to help friends or family cope with theirs." --VOYA "Love and death are always a potent mix, and in the hands of a talented writer like Freitas, this is especially so." --Booklist
"As fragile and lovely as a rose."--Jenny Han, author of We'll Always Have Summer
"Fans of Sarah Dessen will fall for this deeply moving tale of family, loss, and falling in love."—Melissa Walker, author of Violet on the Runway
"This book was so gorgeous. I loved Rose, I swooned over Will. This is an amazing story about love, loss, and the healing power of music.I adored it!" Morgan Matson, author of Amy & Roger's Epic Detour
"Those who have lost a loved one will recognize a part of themselves in Rose and appreciate her quest to find the inner strength to reconfigure the shattered pieces of her life." --
Publishers Weekly
 "Rose's cathartic interactions with her survival kit provide a creative way to show that mother always does know best." --
Kirkus Reviews
 Advance praise for
The Survival Kit
"Fans of Sarah Dessen will fall for this deeply moving tale of family, loss, and falling in love."—Melissa Walker, author of Violet on the Runway
"This book was so gorgeous. I loved Rose, I swooned over Will. This is an amazing story about love, loss, and the healing power of music.I adored it!" Morgan Matson, author of Amy & Roger's Epic Detour
Advertisement