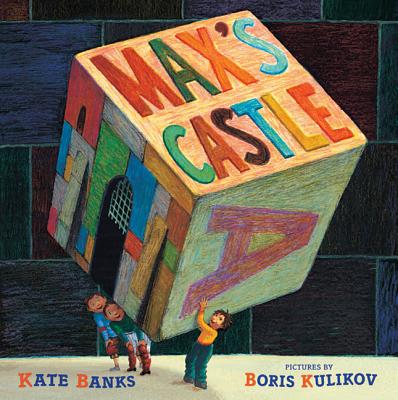 Max's Castle (Hardcover)
Farrar Straus Giroux, 9780374399191, 40pp.
Publication Date: October 25, 2011
Description
When Max finds a pile of forgotten toys under the bed, his brothers Benjamin and Karl wonder what's so special about some old blocks. So Max shows them. With some clever twists of both blocks and imagination, he constructs not only a castle but an entire adventure, complete with pirates and knights, a dark dungeon and a dragon.
This ingenious sequel to "Max"'"s Words" and "Max"'"s Dragons "shows readers just how much fun wordplay can be. This title has Common Core connections.
About the Author
Kate Banks and Boris Kulikov have also collaborated on Max's Words, a School Library Journal Best Book of the Year, and its sequel, Max's Dragon, as well as The Eraserheads. Kate Banks lives in the South of France and Boris Kulikov lives in Brooklyn, New York.
Praise For Max's Castle…
"In 'Max's Castle,' by Kate Banks, the letters are simply letters, yet become ingenious tools for sparking a child's imagination….As with previous collaborations between Banks and the bold illustrator Boris Kulikov ('Max's Words', 'Max's Dragon'), words become magical amulets that transmogrify the world around Max." --The New York Times "Kulikov's chalky, boldly lit illustrations have a bright energy that feels almost improvisational, working in seamless harmony with Banks's nimble wordplay." --Publishers Weekly, Starred "Brimming with clever wordplay, humor, and mixed-media scenes worthy of any child's dreams-come-true, the full impact is clearly the result of seasoned collaboration and experience…" --School Library Journal "Playful perspectives, vivid colors and animated action are brilliantly executed with details that require a second look, then a third." --Kirkus Reviews, Starred
Advertisement