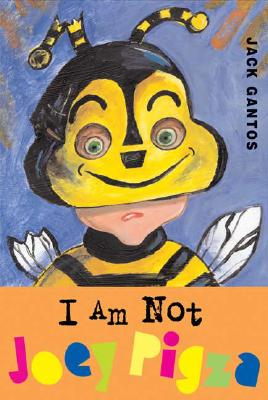 I Am Not Joey Pigza (Hardcover)
Farrar Straus Giroux, 9780374399412, 215pp.
Publication Date: July 24, 2007
Description
Just when Joey Pigza's wired world finally seems to be under control, his good-for-nothing dad pops back into his life. This time, though, Carter Pigza is a new man literally. After a lucky lotto win, Carter Pigza has a crazy new outlook on life, and he's even changed his name to Charles Heinz. He thinks Joey and his mom should become new people, too. Soon Joey finds himself bombarded with changes: a new name, a new home, and a new family business running the beat-up Beehive Diner. He knows he should forgive his dad as his mom wants him to, and get with the new family program. But Joey is afraid that in changing names and going with the flow he will lose sight of who he really is.
In this rocket-paced new chapter in Joey Pigza's life, a favorite hero discovers what identity and forgiveness really mean, and how to cook a delicious turkey burger.
This title has Common Core connections.
About the Author
Jack Gantos has written books for people of all ages, from picture books and middle-grade fiction to novels for young adults and adults. His works include Hole in My Life, a memoir that won the Michael L. Printz and Robert F. Sibert Honors, Joey Pigza Swallowed the Key, a National Book Award Finalist, Joey Pigza Loses Control, a Newbery Honor book, and Dead End in Norvelt, winner of the Newbery Medal and the Scott O'Dell Award for Historical Fiction. Jack was raised in Norvelt, Pennsylvania, and when he was seven, his family moved to Barbados. He attended British schools, where there was much emphasis on reading and writing, and teachers made learning a lot of fun. When the family moved to south Florida, he found his new classmates uninterested in their studies, and his teachers spent most of their time disciplining students. Jack retreated to an abandoned bookmobile (three flat tires and empty of books) parked out behind the sandy ball field, and read for most of the day. The seeds for Jack's writing career were planted in sixth grade, when he read his sister's diary and decided he could write better than she could. He begged his mother for a diary and began to collect anecdotes he overheard at school, mostly from standing outside the teachers' lounge and listening to their lunchtime conversations. Later, he incorporated many of these anecdotes into stories. While in college, he and an illustrator friend, Nicole Rubel, began working on picture books. After a series of well-deserved rejections, they published their first book, Rotten Ralph, in 1976. It was a success and the beginning of Jack's career as a professional writer. Jack continued to write children's books and began to teach courses in children's book writing and children's literature. He developed the master's degree program in children's book writing at Emerson College and the Vermont College M.F.A. program for children's book writers. He now devotes his time to writing books and educational speaking. He lives with his family in Boston, Massachusetts.
Praise For I Am Not Joey Pigza…
"Delightful." —People magazine "Life becomes even more complicated for the wired sixth grader . . . hilarious."--Starred, Booklist "Stands well on its own, though anyone new to Joey's saga will want to read more.  This is Gantos at his best, and that's saying a lot."—Starred, Kirkus Reviews 
"Another wild ride–over serious terrain."—Starred, Publishers Weekly
"Gantos tells the tale with unfailing humor, delicious wordplay, and many hilarious scenes."
—Starred, School Library Journal
 "Joey steadfastly remains on his path of self-knowledge."
—VOYA
 "Gantos is wise and subtle in his exploration of his hero's identity dilemma."
—The Bulletin of the Center for Children's Books
 "Readers will admire Joey's genuine desire to make his parents proud and laugh at his zany perspectives."
—IRA
 "Middle grade readers who know Joey will be happy to see his return."
—TeenReadsToo.com
"A great continuation of the Pigza saga."—Kathy Taber, Kids Ink Children's Bookstore, Indianapolis, IN
Advertisement