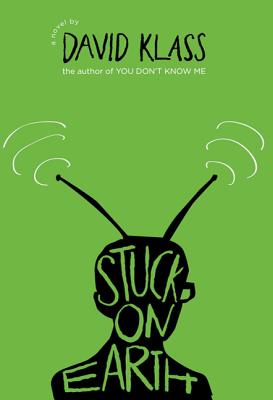 Stuck on Earth
Hardcover

* Individual store prices may vary.
Description
Ketchvar III's mission is simple: travel to Planet Earth, inhabit the body of an average teenager, and determine if the human race should be annihilated. And so Ketchvar—who, to human eyes, looks just like a common snail—crawls into the brain of one Tom Filber and attempts to do his analysis. At first glance, Tom appears to be the perfect specimen—fourteen years old, good health, above average intelligence. But it soon becomes apparent that Tom Filber may be a little too average—gawky, awkward, and utterly abhorred by his peers. An alien within an alien's skin, Ketchvar quickly finds himself wrapped up in the daily drama of teenage life—infuriating family members, raging bullies, and undeniably beautiful next-door neighbors. And the more entangled Ketchvar becomes, the harder it is to answer the question he was sent to Earth to resolve: Should the Sandovinians release the Gagnerian Death Ray and erase the human species for good? Or is it possible that Homo sapiens really are worth saving?
Wickedly wry and hysterically skewed, David Klass's take on teen life on our fabulously flawed Planet Earth is an engrossing look at true friends, truer enemies, and awkward alien first kisses.
Stuck on Earth is a 2011 Bank Street - Best Children's Book of the Year.
Praise For Stuck on Earth…
"A witty and penetrating satire of American life." —The New York Times Book Review
"Humorous misunderstandings and poignant moments with his host's alcoholic father and bitter mother save this from being just another 'people have ruined the planet; let's get rid of them and start over' book . . . . Stuck on Earth will resonate with kids who feel like aliens in their own homes." —Starred, School Library Journal
"Klass's (the Caretaker Trilogy) thoughtful, often wrenching book offers plenty to think about, from what's really going on in Tom's head to questions about human responsibility to the planet and each other." —Starred, Publishers Weekly
"Ketchvar's adventure will win fans." —Kirkus Reviews
"Touching, weird, relevant, and a great piece of storytelling, STUCK ON EARTH is a uber-quirky middle school favorite in the making." —Richie Partington, Richie's Picks
Farrar, Straus and Giroux (BYR), 9780374399511, 240pp.
Publication Date: March 16, 2010
About the Author
David Klass is the author of many young adult novels, including You Don't Know Me, Losers Take All, and Grandmaster. He is also a Hollywood screenwriter, having written more than twenty-five action screenplays, including Kiss the Girls, starring Morgan Freeman and Ashley Judd, Walking Tall, starring The Rock, and Desperate Measures, starring Michael Keaton and Andy Garcia. Klass grew up in a family that loved literature and theater-his parents were both college professors and writers-but he was a reluctant reader, preferring sports to books. But he started loving the adventure stories his parents would bring home from the library-particularly Jack London, Robert Louis Stevenson and Alexandre Dumas. After his sister twice won a story contest in Seventeen magazine, Klass decided he would win it too, and when he was a senior in high school, he did, publishing his first story, "Ringtoss," in the magazine. He studied at Yale University, where he won the Veech Award for Best Imaginative Writing. He taught English in Japan, and wrote his first novel, The Atami Dragons, about that experience. He now lives in New York with his wife and two children.