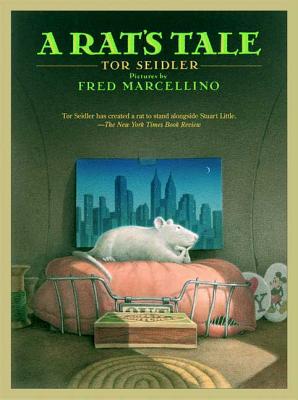 A Rat's Tale
Paperback

* Individual store prices may vary.
Other Editions of This Title:
Paperback (4/1/1999)
Description
Although young Montague Mad-Rat lives in--or rather, under--New York City, he know very few rats besides his mother, who makes hats, his father, who builds mud castles, and his globe-trotting Aunt Elizabeth. But Montague's life takes an abrupt turn for the eventful the stormy day he meets Isabel Moberly-Rat on his way home from Central Park.

Home, for Montague, is an old sewer pipe. He now learns that there is a cityful of other rats out there who inhabit abandoned piers and lead considerably less eccentric and more luxurious lives than his family. What's more, these rats are in the midst of a grave crises. A human being has decided to turn their piers into parking lots, and an extermination campaign is already under way.

As Montague stumbles into this wider, bewildering world, he long to help ratdom (and impress Isabel). But what can he do, when his only talent is painting the seashells his Aunt Elizabeth brings him from her travels? And to make matters worse, it turns out that a drunken uncle of his, Montague Mad-Rat the Elder, has made their name a standing joke in the rat world. For the first time in his life, young Montague finds out what it is to feel helpless and alone--little realizing that he has not only Isabel and his seashells on his side but his despised drunken uncle as well.
Praise For A Rat's Tale…
"A grand adventure . . . A superb book." —Boxed review, Publishers Weekly

"A feast for fantasy lovers. The kind of entrancing reality found in The Cricket in Times Square or even Stuart Little." —Starred, Kirkus Reviews

"Seidler has created . . . an appealing hero . . . to stand alongside Stuart Little." —The New York Times Book Review

"Like Charlotte's Web or The Wind in the Willows, Tor Seidler's delightful new book, A Rat's Tale, is suffused with humor, pathos, and moral beauty." —The Washington Post Book World
Farrar, Straus and Giroux (BYR), 9780374400316, 192pp.
Publication Date: September 24, 2008
About the Author
Tor Seidler has written several books for young readers, including the sequel to A Rat's Tale, The Revenge of Randal Reese-Rat, and Mean Margaret, a National Book Award Finalist. He lives in New York City.

Fred Marcellino (1939-2001) wrote and illustrated many books for children, including a Caldecott Honor Book, Puss in Boots. He began his career in illustration with A Rat's Tale.
or
Not Currently Available for Direct Purchase