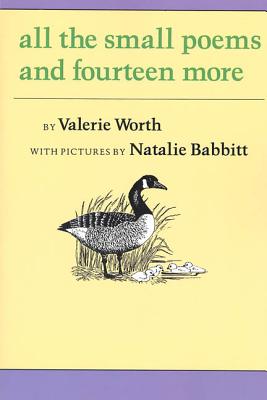 All the Small Poems and Fourteen More
Paperback

* Individual store prices may vary.
Other Editions of This Title:
Prebound (10/29/1996)
Prebound (10/29/1996)
Description
All the Small Poems and Fourteen More gathers all four of Valerie Worth's small poetry children's books and includes the original illustrations by Natalie Babbitt, the award-winning writer/artist of Tuck Everlasting.

Inspired by her love of nature, Valerie Worth's wondrous verse about animals, plants, and other everyday objects presents a perfect perspective of the world through a child's eyes.

This volume includes Small Poems, More Small Poems, Still More Small Poems, and Small Poems Again.
Praise For All the Small Poems and Fourteen More…
"Every bit as worth as their predecessors." —The Horn Book

"A virtual catalog of brief meditations on little earthly wonders-from "Amoeba" to "Zinnias"-rendered in characteristically simple yet exquisitely language and though." —Voice of Youth Advocates

"Ms. Worth brilliantly employs all aspects of the poet's craft...Like haiku, her poems are written in the present tense of one thing keenly observed, inviting readers to complete the picture." —Myra Cohn Livingston, The New York Times Book Review

"Valerie Worth's small, solid poems are consistently accessible but never condescending or compromising...The observations are sharp, matter-of-fact, fresh but unforced, and Natalie Babbitt's precise, understated drawings have the same virtues." —Pointer/Kirkus Reviews

"All the original collaborations between this poet and artist are collected in this volume, which includes ninety-nine poems and an additional fourteen new ones. The early works have been widely praised, for good reason, and the new verses are every bit as worthy as their predecessors...the book is a gift to cherish." —The Horn Book
Square Fish, 9780374403454, 208pp.
Publication Date: October 29, 1996
About the Author
Valerie Worth (1933-1994)

Acclaimed poet Valerie Worth was born in Philadelphia, Pennsylvania, and grew up in nearby Swarthmore, where her father taught biology at Swarthmore College. The family then moved to Tampa, Florida, and Bangalore, India, where they lived for one year. Valerie returned to Swarthmore to attend college, graduating with an English degree and High Honors. Shortly thereafter she married George Bahlke, a fellow Swarthmore graduate. After settling in Clinton, NY, Valerie met Natalie Babbitt at Kirkland College, and Natalie began to illustrate Valerie's work, starting with Small Poems in 1972. Three more volumes followed: More Small Poems (1976); Still More Small Poems (1978); and Small Poems Again (1986). All four volumes were issued in a single paperback, All the Small Poems (1987), and seven years later, All the Small Poems and Fourteen More was released and was then followed by a paperback edition in 1996. In 2002, FSG posthumously published Peacock and Other Poems by Valerie Worth, with pictures by Natalie Babbitt, a collection of 27 poems which Publishers Weekly, in a starred review, said "heralds the joy of words." School Library Journal, in a starred review, declared that "[Valerie Worth's] work gives children something to admire and aim for."
Valerie Worth was honored by the National Council of Teachers of English (NCTE) in 1991 with its Poetry Award for Excellence in Poetry for Children, which acknowledges a body of work.
Artist and writer
Natalie Babbitt
(1932–2016)
is the award-winning author of the modern classic
Tuck Everlasting
and many other brilliantly original books for young people. As the mother of three small children, she began her career in 1966 by illustrating
The Forty-Ninth Magician
, written by her husband, Samuel Babbitt. She soon tried her own hand at writing, publishing two picture books in verse. Her first novel,
The Search for Delicious
, was published in 1969 and established her reputation for creating magical tales with profound meaning.
Kneeknock Rise
earned Babbitt a Newbery Honor in 1971, and she went on to write—and often illustrate—many more picture books, story collections, and novels. She also illustrated the five volumes in the Small Poems series by Valerie Worth. In 2002,
Tuck Everlasting
was adapted into a major motion picture, and in 2016 a musical version premiered on Broadway. Born and raised in Ohio, Natalie Babbitt lived her adult life in the Northeast.