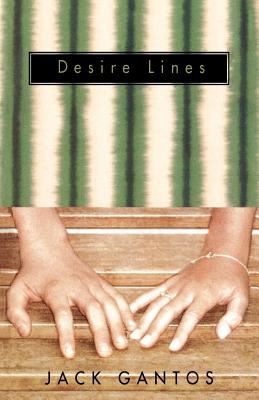 Desire Lines (Paperback)
Farrar Straus Giroux, 9780374417031, 138pp.
Publication Date: March 21, 2006
Description
Sixteen-year-old Walker has discovered something potentially scandalous--two of his female classmates are having an affair. It is a secret he has no problem keeping to himself . . . until it comes to protecting his own reputation.
"It is difficult to close Desire Lines without the overpowering feeling that evil's caretaker can very well be an average young man who lacks the courage to do what he knows is right. This is a morality play as painful and rage-inducing as a personal betrayal. Take it personally. You cannot read this without getting as emotionally involved as if you were a player in the story." --Chris Lynch
About the Author
Jack Gantos has written books for people of all ages, from picture books and middle-grade fiction to novels for young adults and adults. His works include Hole in My Life, a memoir that won the Michael L. Printz and Robert F. Sibert Honors, Joey Pigza Swallowed the Key, a National Book Award Finalist, Joey Pigza Loses Control, a Newbery Honor book, and Dead End in Norvelt, winner of the Newbery Medal and the Scott O'Dell Award for Historical Fiction. Jack was raised in Norvelt, Pennsylvania, and when he was seven, his family moved to Barbados. He attended British schools, where there was much emphasis on reading and writing, and teachers made learning a lot of fun. When the family moved to south Florida, he found his new classmates uninterested in their studies, and his teachers spent most of their time disciplining students. Jack retreated to an abandoned bookmobile (three flat tires and empty of books) parked out behind the sandy ball field, and read for most of the day. The seeds for Jack's writing career were planted in sixth grade, when he read his sister's diary and decided he could write better than she could. He begged his mother for a diary and began to collect anecdotes he overheard at school, mostly from standing outside the teachers' lounge and listening to their lunchtime conversations. Later, he incorporated many of these anecdotes into stories. While in college, he and an illustrator friend, Nicole Rubel, began working on picture books. After a series of well-deserved rejections, they published their first book, Rotten Ralph, in 1976. It was a success and the beginning of Jack's career as a professional writer. Jack continued to write children's books and began to teach courses in children's book writing and children's literature. He developed the master's degree program in children's book writing at Emerson College and the Vermont College M.F.A. program for children's book writers. He now devotes his time to writing books and educational speaking. He lives with his family in Boston, Massachusetts.
Praise For Desire Lines…
"[Examines] at a high-school level the phenomenon of betrayal in the aid of self-preservation. What's particularly interesting is that Gantos doesn't let his victims off the hook either." —The Bulletin of the Center for Children's Books
"Gantos is explicit when demonstrating how a climate of fear and suspicion can be concocted in a community, and how insecure young people—gay, straight—can be tormented by it." —Kirkus Reviews
"A tightly written first-person novel tells how 16-year-old Walker knows about the romance of two of his female classmates. While he understands the evil of intolerance—in this case homophobia in a rural community—he feels helpless, and tragedy ensues." —The New York Times Book Review
Advertisement