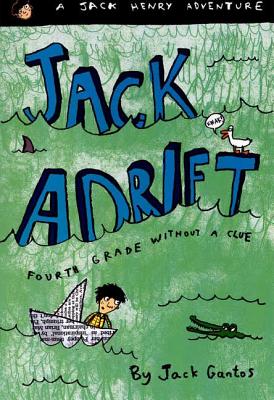 Jack Adrift (Paperback)
Fourth Grade Without a Clue: A Jack Henry Adventure
Square Fish, 9780374437183, 208pp.
Publication Date: October 1, 2005
Other Editions of This Title:
Hardcover (8/27/2003)
* Individual store prices may vary.
Description
From the Newbery Medal–winning author of Dead End in Norvelt, eight side-splitting stories about a boy who is doing his best to keep his head above water
As the Henry family sets sail for a new life on Cape Hatteras, fourth-grader Jack is struggling to chart a course between his parents' contradictory advice on making friends and influencing people. Just tell people what they want to hear, Dad advises. Just tell the truth, Mom cautions. Jack finds there are no easy answers as he drifts through his crazy school year, falling desperately in love with his young teacher, getting suckered into becoming a bad-behavior spy for the principal, and being forced to make a presentable pet out of a duck with backward feet. Indeed, with an airheaded, air-guitar-playing neighbor the closest thing to a friend, and a judgmental older sister his relentless enemy, it's all he can do to stay afloat.
This colorful and comic new collection of interrelated stories featuring the author's hapless alter ego is the first of five books in the Jack Henry series, praised by Booklist for their "hilarious, exquisitely painful, and utterly on-target depiction" of a boy's life.
This title has Common Core connections.
About the Author
Jack Gantos has written books for people of all ages, from picture books and middle-grade fiction to novels for young adults and adults. His works include Hole in My Life, a memoir that won the Michael L. Printz and Robert F. Sibert Honors, Joey Pigza Swallowed the Key, a National Book Award Finalist, and Joey Pigza Loses Control, a Newbery Honor book. Jack was born in Mount Pleasant, Pennsylvania, and when he was seven, his family moved to Barbados. He attended British schools, where there was much emphasis on reading and writing, and teachers made learning a lot of fun. When the family moved to south Florida, he found his new classmates uninterested in their studies, and his teachers spent most of their time disciplining students. Jack retreated to an abandoned bookmobile (three flat tires and empty of books) parked out behind the sandy ball field, and read for most of the day. The seeds for Jack's writing career were planted in sixth grade, when he read his sister's diary and decided he could write better than she could. He begged his mother for a diary and began to collect anecdotes he overheard at school, mostly from standing outside the teachers' lounge and listening to their lunchtime conversations. Later, he incorporated many of these anecdotes into stories.  While in college, he and an illustrator friend, Nicole Rubel, began working on picture books. After a series of well-deserved rejections, they published their first book, Rotten Ralph, in 1976. It was a success and the beginning of Jack's career as a professional writer. Jack continued to write children's books and began to teach courses in children's book writing and children's literature. He developed the master's degree program in children's book writing at Emerson College and the Vermont College M.F.A. program for children's book writers. He now devotes his time to writing books and educational speaking. He lives with his family in Boston, Massachusetts.
Praise For Jack Adrift: Fourth Grade Without a Clue: A Jack Henry Adventure…
"Slapstick is nicely balanced with reflection . . . The catchy format imitates a journal with lined-paper edges and excerpts of Jack's handwritten ramblings. A fun and refreshing read." —School Library Journal
"Jack jumps off the pages . . . Gantos's wonderful writing [is] witty, smart, and unafraid to tackle tough topics." —Booklist
"Gantos manages to make Jack's weird predicaments both familiar and fantastic; laugh-out-loud scenes have a tendency to sneak up on you . . . Jack's realistic struggle with the pull between childhood and the world of adults will resonate with the book's audience." —The Horn Book