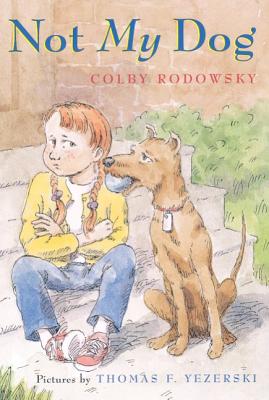 Not My Dog (Paperback)
Farrar, Straus and Giroux (BYR), 9780374455385, 80pp.
Publication Date: April 9, 2001
* Individual store prices may vary.
Description
Ellie Martin fiercely resists her new dog's charms
It isn't Ellie's fault, really. She's always wanted a puppy, and now that she's almost nine, finally old enough to get one, Preston is foisted on her. What's more, her parents say that this fully grown mutt that Great-aunt Margaret can no longer keep will have to do. They can't very well have a dog and a puppy. Although heartbroken and resentful, Ellie does see Preston's virtues. Still, she refuses to accept him as her dog. Then Ellie's resistance almost costs her Preston, and at last she embraces him. Colby Rodowsky's story about a child's change of heart has just enough tenderness -- and just enough bite -- to satisfy young dog lovers. Captivating drawings by Thomas F. Yezerski highlight the experience.
About the Author
Colby Rodowsky
Whenever I try to piece together anything even slightly resembling an autobiographical sketch, I find that a lot of my remembering has to do with books: what I read (almost anything); where I read (almost anywhere); and why.
Why is the key. It has, in part, to do with being an only child, often alone.
I spent a part of every summer visiting my grandmother on the eastern shore of Virginia, where the days were long and hot and there was absolutely nothing to do. Nothing to do, that is, until I discovered the library that had been a church (open three afternoons a week, and with the fiction section two steps up, where the altar used to be), and for the off-days, my grandmother's attic (and all the books my mother and aunt had read as children). It's no wonder that that library and attic keep turning up in the things I write.
There is, after all, something to be said for aloneness, at least in my case, because it led to books. I like to think that there is a lovely distinction between aloneness and loneliness, and the real reader will rejoice in the one and never know the other.
Anyway, I read. (Well, I did other things, too: jumped rope and collected bottle caps and paper dolls.) I grew up in Baltimore, New York, Washington, D.C., and Baltimore again; went to college (majoring in English); and taught school (third grade and then Special Education). I got married (to a lawyer who is now a judge) and had six children (five girls and one boy) and learned to make cupcakes and Halloween costumes and peanut-butter-and-jelly sandwiches. I still read. In order to find time for reading, I had to make sure the children had something to do -- so I cultivated readers. Believe it or not, in a household of eight, we all managed to find time for a little aloneness.
But there was something else that kept prodding me: the books I hadn't written yet. Once, when I was about ten years old, I woke my mother in the middle of the night and said, "Who shall I dedicate my first book to?" And she, with great practicality, said,"Why don't you write it first." And went back to sleep.
So, when the children were old enough to make their own cupcakes and Halloween costumes, I did. I have been writing ever since and hope to keep it up for a long time to come.
The children are grown now and there are five sons-in-law, a daughter-in-law, and thirteen grandchildren.
There are new readers in the family to encourage, to foster.
Thomas F. Yezerski
About a year ago, I discovered something startling in the closet of my childhood bedroom -- I haven't changed a whole heck of a lot since I was five! I realized this when I found a picture that I made in kindergarten.
The subject of that first drawing was my stuffed bear, enigmatically named Mary Bear. As she was in life, the Mary Bear in the drawing is long and flat, the result of sleeping in the arms of a chubby little boy. She is fastidiously rendered in brown, black, and red crayon. Mom insists it shows I was going to be an artist when I grew up, but she is my mother, after all! When I look at it, I just see the love I had for my bear.
My feelings about the ordinary people and events in my life also tend to get into my work. Mom says the Mary Bear drawing was the first drawing I made in kindergarten. I can bet that I was missing my bear quite a lot during those first few terrifying days of my education, and that emotion is apparent in the drawing.
My first book, Together in Pinecone Patch, is about the prejudices of Polish and Irish immigrants in the nineteenth century. But it's also about my gratitude to my parents and grandparents for working so hard to make life better for me. My personal fears about starting out on my own motivated that story, too. It may even be about my own experience of falling in love with someone I shouldn't have.
My outlook on life isn't all hungry peasants and gray coal towns, though. Queen of the World reflects my sillier side. After all, my kindergarten drawing wasn't sad and dark; it was a stuffed bear! I admit that the three girls in the story resemble my sisters. My sisters admit it, too, and they're slightly annoyed. I have a long history of slightly annoying my sisters, so this book is a sort of crowning work. I'm also proud of my siblings. I think my admiration for their individuality and zeal comes across through these words and pictures. Though I've conveniently left out a character representing myself, this book helps me laugh at my own busy, frantic quest to be the best.
A Full Hand is a trip down the Morris Canal in New Jersey, and a journey from childhood to adulthood. The route I travel from my parents' house to my home is roughly the same as that of the canal. Over the years, at the deliberate pace of a canal boat, my father dispensed mundane facts and taught me the right way to be. The boy in A Full Hand is amazed by and yet anxious about his father's world. He's also eager to do a good job in it. Decades after my first day in kindergarten, I still find my world daunting and amazing. In some ways, I'm still a five-year-old trying to put it all in my drawings.
Thomas F. Yezerski was born in 1969 and spent most of his childhood in Pennsylvania's Lehigh Valley. Tom took art lessons at the Baum School of Art in Allentown and at the Barnstone Studios in Coplay. He was a Boy Scout for six years and earned the rank of Eagle Scout. In 1987 he graduated from Parkland High School in Orefield, where he played xylophone in the band. Tom earned his BFA in illustration from Syracuse University in 1991.
Before illustrating children's books, Tom created a design a day for children's pajamas and swimsuits. He is forever grateful to Farrar, Straus and Giroux for publishing his first book, Together in Pinecone Patch. Tom continues to write and illustrate new books, as well as to create graphics for computer software. He lives in Rutherford, New Jersey.
Praise For Not My Dog…
"Eight-year-old Ellie wants a puppy more than anything else in the world...So she's not happy when her parents inform her that they are adopting a full-grown dog...Gradually, however, Preston wins her over. Readers will find their interest engaged and held from beginning to end, and will close the book with great satisfaction." —Starred, The Horn Book
"Here's a really good book...for that neglected second-to-third-grade market. Eight-year-old Ellie wants a puppy more than anything else in the world...So she's not happy when her parents inform her that they are adopting a full-grown dog - a 'sort of square, boring brown dog with sticking-up ears and a skinny tail' - named Preston who belonged to a distant relative...Gradually, however, Preston wins her over. Readers will find their interest engaged and held from beginning to end, and will close the book with great satisfaction." —Starred, The Horn Book
"A neat twist on the girl-yearns-for-dog story, this begining chapter book has much to recommend it...Thomas F. Yezerski's 10 full-page drawings illustrate the characters' actions, attitudes, and emotions in a most appealing way. An excellent choice for children." —Booklist