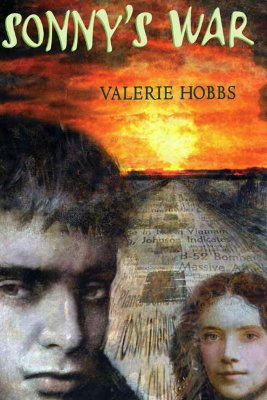 Sonny's War
Paperback

* Individual store prices may vary.
Description
After her father dies, fourteen-year-old Corin needs her brother, Sonny, more than ever. Sonny is quiet but he's a great listener, and Cory knows where she can always find him - in the garage, working on his car. Life isn't so bad as long as Sonny is around. But thousands of miles from the sleepy little town of Ojala, California, where all the kids can think about is partying and racing, a war is going on, and Sonny is just the right age to be drafted. When Sonny tells Cory he's going to Vietnam, she is devastated. What are she and her mom supposed to do while he's gone? What if he doesn't come back at all? The new substitute history teacher is the only one who seems to understand. Cory has never met anybody like Lawrence. He's young, he's handsome, and he's passionately against the war that took her brother away. As Cory turns to Lawrence for the comfort Sonny once gave, she finds herself wanting much more than Lawrence could ever provide.
Valerie Hobbs eloquently depicts the feelings of loss, betrayal, and love felt by a young woman amid the confusion and excitement of the 1960s.
"Sonny's War" is a 2003 Bank Street - Best Children's Book of the Year.
Praise For Sonny's War…
"Hobbs poignantly evokes the turbulent sentiments of 1967-68, a time when the nation was not only at war against Vietnam, but also against itself . . . The author shows what she does best, crafting a believable, multifaceted plot with vivid,
well-rounded characters who learn to love each other - and themselves. Hobbs just gets better and better." --Starred, Kirkus Reviews "The times, they were a-changin'; and Hobbs chronicles the pivotal years of the late sixties in a convincing, affecting novel . . . Hobbs writes like a dream." --Starred, The Horn Book
"Through Cory, a careful, perceptive observer and a questioning participant, readers glimpse the ambiguities and tensions driving the nation and individual citizens during this difficult time." --Starred, School Library Journal
Farrar Straus Giroux, 9780374469702, 215pp.
Publication Date: March 21, 2006
About the Author
Valerie Hobbs is the recipient of the 1999 PEN/Norma Klein Award, a biennial prize that recognizes "an emerging voice of literary merit among American writers of children's fiction." She is the author of young adult and middle-grade novels including "Sheep," "Defiance," "Anything but Ordinary," and "The Last Best Days of Summer." She holds a B.A. and an M.A. in English from the University of California at Santa Barbara, where she has taught academic writing. Valerie lives in Santa Barbara, California, with her husband.
or
Not Currently Available for Direct Purchase