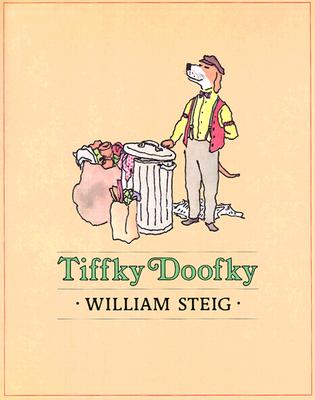 Tiffky Doofky (Paperback)
Farrar, Straus and Giroux (BYR), 9780374477486, 32pp.
Publication Date: June 1, 1987
* Individual store prices may vary.
Description
Tiffky Doofky, garbage collector for the town of Popville, is proud of his calling, and quite a gay dog into the bargain. One fine spring morning, while he's making his rounds, it comes to him that something special is going to happen. Madame Tarsal, the fortuneteller, confirms his hunch and predicts that he will meet his true love that very day--before the sun goes down! "Nothing you can do can keep it from happening," she quacks, and the excited Tiffky kisses her right on the bill.
The day turns out to be far from ordinary, but not in the way Tiffky Doofky, or even Madame Tarsal, had expected. A bad-tempered witch is at work here, though she looks just like a harmless old biddy, with her bicycle and red babushka. Tiffky's adventures under her spell take him so far from Popville and so close to sunset that he begins to despair of ever meeting his beloved. He even decides that Madame Tarsal ought to get a new crystal ball. But just as the sun is touching the horizon, Tiffky has his most perilous encounter, and it brings an ending entirely satisfactory to all.
Praise For Tiffky Doofky…
"Tiffky Doofky is a (dog) garbage collector who's told by fortune-teller Madam Tarsal that 'this very day, before the sun goes down, you will fall in love with the one you are going to marry'...But his fortune gets temporarily waylaid by an old chicken biddy who's secretly Madam Tarsal's enemy and persists in trying to foil her fortune-telling." --Starred, Booklist
or
Not Currently Available for Direct Purchase