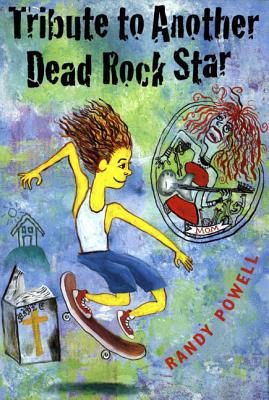 Tribute to Another Dead Rock Star (Paperback)
Farrar, Straus and Giroux (BYR), 9780374479688, 224pp.
Publication Date: September 9, 2003
* Individual store prices may vary.
Description
Grady is skateboarding toward a major decision
No longer able to live with his grandmother, fifteen-year-old Grady Grennan has to find a new address. one option is to move in with his mentally disabled half brother, Louie, in Seattle. But that poses a problem: Louie's adoptive mother, Vickie, and Grady are about as compatible as Mozart and heavy metal.
Nevertheless, Grady's testing the waters. He's in Seattle for a concert tribute to his and Louie's mother, a grunge rock icon who died three years ago. Grady has been invited to speak at the tribute, but what is he supposed to say to thousands of adoring fans about a mother who abandoned her sons in favor of a musical career?
Both humorous and deeply moving, Tribute to Another Dead Rock Star poses challenging, provocative questions to all sorts of readers -- cynics, liberals, slackers, and rock stars included.
About the Author
Randy Powell
I've lived in Seattle all my life -- since 1956. I live here now with my wife, Judy, and our two sons, Eli and Drew. I like the outdoors, books, fresh crab and raw oysters, and rain.
As a kid, I was crazy about sports. All sports. When I wasn't playing the real thing, I was playing some imaginary form of it. I wasn't a great athlete, just obsessed. I peaked when I was eleven. Our little league football team won the city championship, and the coach gave me the game ball. I lost that ball a few years later. I'm still looking for it.
I had fun reading and writing. When I found a book I liked, I threw myself into it, into the main character's skin. I'd try to write in the author's style. Writing was hard work, but what a rush it gave me, coming up with the right phrase, finishing a piece and feeling it click, reading it to the class and getting some laughs.
In high school, in the early 1970s, my hero was Arthur Ashe, the tennis pro. I concentrated on tennis and worked hard at it, but not hard enough. Today it's still my game of choice, and I still don't work hard enough.
High school is also where I became serious about writing. I became even more so in college, at the University of Washington. I made two trips to Europe, worked summers in Alaska as a deckhand on a fishing boat, and wrote short stories, novels, and even formula romances.
After college, I got a job teaching at an alternative school for junior high and high school dropouts. I taught for four years and loved it, but finally left because it ate up my writing time.
My breakthrough in writing came when I learned to look inside myself and write about the things I cared and felt deeply about. I guess it was only natural that my first published novel, My Underrated Year, should be about a high school football and tennis player. Yes, there's a lot of myself in that book, although hardly any of the incidents actually happened. That's true of my other books as well.
I enjoy visiting schools and talking to students about writing. I also love hearing from readers. You can write to me in care of my publisher, Farrar, Straus and Giroux. I promise I'll write back!
Praise For Tribute to Another Dead Rock Star…
"Grady Grennan-the likable fifteen-year-old son of Janis Joplin-like rock star Debbie Grennan, who abandoned him when he was seven and died from choking after overdosing on drugs and alcohol-relates what happens when he is invited to speak at a tribute in Seattle for his celebrity mother...A moving and memorable story with sharply etched characters." —School Library Journal
"Powell poses some provocative questions in this unglamorized, introspective look at the fringes of the rock-star scene. Grady, the 15-year-old narrator, returns to his hometown of Seattle three years after the death of his mother, famous hard-rocker Debbie Grennan, to speak at a concert performed in her memory. While there, he stays with his mentally handicapped half-brother, Louie, and Louie's born-again-Christian family. The half-brothers' artless conversations allow Grady time to reflect on Debbie's rise to fame as well as her self-destructive behavior." —Starred / Publishers Weekly
"Randy Powell never gives in to cheap thrills or pronouncements...Everything and everyone is written with concentrated intelligence and affection." —Hungry Mind Review