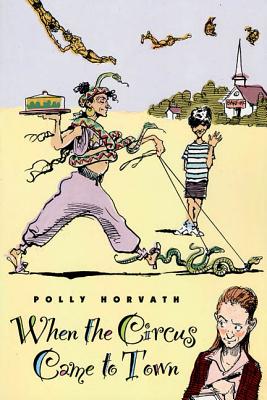 When the Circus Came to Town (Paperback)
Farrar, Straus and Giroux (BYR), 9780374483678, 144pp.
Publication Date: March 1, 1999
* Individual store prices may vary.
Description
A hilarious satire on small-town prejudice
It all started with the Halibuts. Then came Elmira Degoochy the snake lady. Then the Flying Gambinis -- all seven of them and their mother. And Mrs. Harrison the fortune-teller, and Mr. Wydel the strongman . . .
These are the new residents of Springfield, the formerly peaceful Midwestern town where up to now young Ivy's life had been pretty uneventful. Ivy becomes fast friends with Alfred Halibut, who is an aspiring writer like herself and the son of a circus publicity manager. She also befriends the other circus people who have moved into town. But many of her neighbors are not feeling kindly about this invasion of strange characters. Tensions somersault into a climactic tangle at the Springfield bake-off. In the midst of hurtling pies, one voice alone can bring peace and tolerance back to the community. When the Circus Came to Town is Polly Horvath's funniest novel to date, packed with vivid exaggeration and slapstick scenarios.
About the Author
Polly Horvath has written many books for children and young adults, among them Everything on a Waffle, The Canning Season, and One Year in Coal Harbour. She has won numerous awards including a National Book Award, Newbery Honor, Toronto Dominion Award, International White Raven, and Canadian Library Association's Young Adult Book of the Year. She has also been short-listed for Germany's most prestigious literature award, the Deutscher Jugendliteraturpreis, as well as the Writer's Trust Vicky Metcalfe Award for her body of work and many others. Her books have been New York Times and Publishers Weekly bestsellers and Rosie O'Donnell and Oprah picks. She is translated into over 25 languages and her books are taught in children's literature curricula in North America and internationally. She lives in British Columbia.
Praise For When the Circus Came to Town…
"A small, quiet town becomes divided when some circus folk set down root-and, heaven forbid, decide to enter baked goods in the town's annual bake sale. Fifth-grader Ivy...narrates the goings-on, including her own role in the turmoil." —Booklist
"A four-star attraction." —Starred, School Library Journal