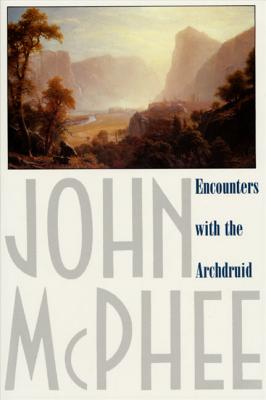 Encounters with the Archdruid
Narratives About a Conservationist and Three of His Natural Enemies
Paperback

* Individual store prices may vary.
Other Editions of This Title:
Hardcover (8/6/1971)
Description
The narratives in this book are of journeys made in three wildernesses - on a coastal island, in a Western mountain range, and on the Colorado River in the Grand Canyon. The four men portrayed here have different relationships to their environment, and they encounter each other on mountain trails, in forests and rapids, sometimes with reserve, sometimes with friendliness, sometimes fighting hard across a philosophical divide.
Praise For Encounters with the Archdruid: Narratives About a Conservationist and Three of His Natural Enemies…
"The importance of this lively book in the unmanageably proliferating literature on ecology is in its confrontation between remarkable men who hold great differences of opinion with integrity on all sides. Mr. McPhee, not pushing, just presenting, portrays them all in the round, showing them clashing in concrete situations where factors are complex and decisions hard. Readers must choose sides." —The Wall Street Journal

"For those who want to understand the issues of the environmental crisis, Encounters with the Archdruid is a superb book. McPhee reveals more nuances of the value revolution that dominates the new age of ecology than most writers could pack into a volume twice as long. I marvel at his capacity to listen intently and extract the essence of a man and his philosophy in the fewest possible words." —Stewart Udall

"Brower and his antagonists are revealed as subtly and convincingly as they would be in a good novel." —Time
Farrar, Straus and Giroux, 9780374514310, 256pp.
Publication Date: October 1, 1977
About the Author
John McPhee was born in Princeton, New Jersey, and was educated at Princeton University and Cambridge University. His writing career began at Time magazine and led to his long association with The New Yorker, where he has been a staff writer since 1965. Also in 1965, he published his first book, A Sense of Where You Are, with Farrar, Straus and Giroux, and in the years since, he has written over 30 books, including Oranges (1967), Coming into the Country (1977), The Control of Nature (1989), The Founding Fish (2002), Uncommon Carriers (2007), and Silk Parachute (2011). Encounters with the Archdruid (1972) and The Curve of Binding Energy (1974) were nominated for National Book Awards in the category of science. McPhee received the Award in Literature from the Academy of Arts and Letters in 1977. In 1999, he was awarded the Pulitzer Prize for Annals of the Former World. He lives in Princeton, New Jersey.