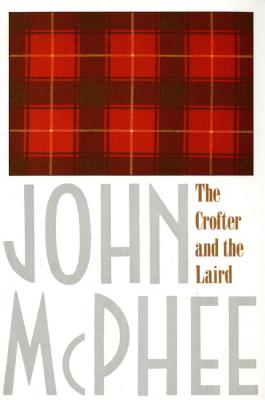 The Crofter and the Laird
Paperback

* Individual store prices may vary.
Description
When John McPhee returned to the island of his ancestors—Colonsay, twenty-five miles west of the Scottish mainland—a hundred and thirty-eight people were living there. About eighty of these, crofters and farmers, had familial histories of unbroken residence on the island for two or three hundred years; the rest, including the English laird who owned Colonsay, were "incomers." Donald McNeill, the crofter of the title, was working out his existence in this last domain of the feudal system; the laird, the fourth Baron Strathcona, lived in Bath, appeared on Colonsay mainly in the summer, and accepted with nonchalance the fact that he was the least popular man on the island he owned. While comparing crofter and laird, McPhee gives readers a deep and rich portrait of the terrain, the history, the legends, and the people of this fragment of the Hebrides.
Praise For The Crofter and the Laird…
"McPhee brings to his book about the island of Colonsay in the Scottish Hebrides a visual precision and a grace of language that are quite rare." —Harper's

"A small masterpiece of penetrating warmth and perception." —Charles Eliot, Time

"One always has the sense with McPhee of a man at a pitch of pleasure in his work, a natural at it, finding out on behalf of the rest of us how some portion of the world works." —Edward Hoagland, The New York Times
Farrar, Straus and Giroux, 9780374514655, 176pp.
Publication Date: September 1, 1992
About the Author
John McPhee was born in Princeton, New Jersey, and was educated at Princeton University and Cambridge University. His writing career began at Time magazine and led to his long association with The New Yorker, where he has been a staff writer since 1965. Also in 1965, he published his first book, A Sense of Where You Are, with Farrar, Straus and Giroux, and in the years since, he has written over 30 books, including Oranges (1967), Coming into the Country (1977), The Control of Nature (1989), The Founding Fish (2002), Uncommon Carriers (2007), and Silk Parachute (2011). Encounters with the Archdruid (1972) and The Curve of Binding Energy (1974) were nominated for National Book Awards in the category of science. McPhee received the Award in Literature from the Academy of Arts and Letters in 1977. In 1999, he was awarded the Pulitzer Prize for Annals of the Former World. He lives in Princeton, New Jersey.

James Graves illustrated The Pine Barrens from Farrar, Straus and Giroux.