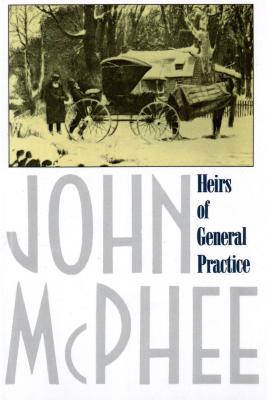 Heirs of General Practice
Paperback

* Individual store prices may vary.
Description
Heirs of General Practice is a frieze of glimpses of young doctors with patients of every age—about a dozen physicians in all, who belong to the new medical specialty called family practice. They are people who have addressed themselves to a need for a unifying generalism in a world that has become greatly subdivided by specialization, physicians who work with the "unquantifiable idea that a doctor who treats your grandmother, your father, your niece, and your daughter will be more adroit in treating you."

These young men and women are seen in their examining rooms in various rural communities in Maine, but Maine is only the example. Their medical objectives, their successes, the professional obstacles they do and do not overcome are representative of any place family practitioners are working. While essential medical background is provided, McPhee's masterful approach to a trend significant to all of us is replete with affecting, and often amusing, stories about both doctors and their charges.
Praise For Heirs of General Practice…
"Using the case method so familiar to doctors, John McPhee has captured the essence of the struggle within medicine to find a better balance between humane interest in patients as persons and the scientific rigor demanded by modern medicine. His portraits of young family doctors in Maine vividly portray the struggle of primary care to achieve this balance." —Robert S. Lawrence, M.D., Charles S. Davidson Associate Professor of Medicine Harvard Medical School

"A sensitive portrayal of the heart of family medicine--the personal relationships between family physicians, their patients and families--and an accurate representation of the special challenges of family practice and the reasons for its recent renaissance." —John P. Geyman, M.D., chairman, Department of Family Medicine, University of Washington and editor, Journal of Family Practice
Farrar, Straus and Giroux, 9780374519742, 128pp.
Publication Date: April 1, 1986
About the Author
John McPhee was born in Princeton, New Jersey, and was educated at Princeton University and Cambridge University. His writing career began at Time magazine and led to his long association with The New Yorker, where he has been a staff writer since 1965. Also in 1965, he published his first book, A Sense of Where You Are, with Farrar, Straus and Giroux, and in the years since, he has written over 30 books, including Oranges (1967), Coming into the Country (1977), The Control of Nature (1989), The Founding Fish (2002), Uncommon Carriers (2007), and Silk Parachute (2011). Encounters with the Archdruid (1972) and The Curve of Binding Energy (1974) were nominated for National Book Awards in the category of science. McPhee received the Award in Literature from the Academy of Arts and Letters in 1977. In 1999, he was awarded the Pulitzer Prize for Annals of the Former World. He lives in Princeton, New Jersey.
or
Not Currently Available for Direct Purchase