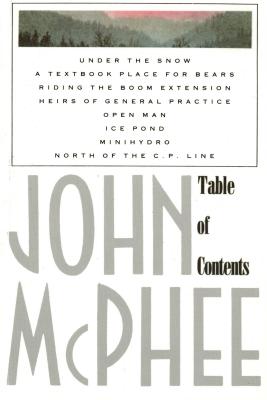 Table of Contents
Paperback

* Individual store prices may vary.
Other Editions of This Title:
Hardcover (10/7/1985)
Description
Table of Contents is a collection of eight pieces that range from Alaska to New Jersey, describing, for example, the arrival of telephones in a small village near the Arctic Circle and the arrival of wild bears in considerable numbers in New Jersey, swarming in from the Poconos in search of a better life ("Riding the Boom Extension," "A Textbook Place for Bears").

In "North of the C.P. Line" the author introduces his friend John McPhee, a bush-pilot fish-and-game warden in northern Maine, who is also a writer. The two men met after the flying warden wrote to The New Yorker complaining that someone was using his name. Maine also is the milieu of "Heirs of General Practice," McPhee's highly acclaimed report—virtually a book in itself—on the new medical specialty called family practice. Much of it takes place in the examining rooms of a dozen young physicans in various rural communities, where they are seen in the context of their work with a great many patients of all ages.

Two relatively short pieces revisit the subjects of earlier McPhee books. "Ice Pond" demonstrates anew the innovative genius of the physicist Theodore B. Taylor, who developed a way of making and using with impressive results in the conservation of the electrical energy. "Open Man" describes a summer day in New Jersey in the company of Senator Bill Bradley.

In "Minihydro," various small-scale entrepreneurs in New York State set up turbines at nineteenth-century mill sites and sell electricity to power companies. A nice little country waterfall can earn as much as two hundred dollars a year for someone with such a turbine. And, "Under the Snow," McPhee Goes back into black bear's dens in Pensylvania in winter, where he becomes intoxicated with affection for some five-pound cubs. They remind him of his daughters.
Praise For Table of Contents…
"Here is McPhee at his most ingenuous and winning, a writer for all seasons." —George Core, The Sewanee Review

"Mr. McPhee is in top form, and his voice, fairly constant from piece to piece, provides sufficient unity." —Noel Perrin, The New York Times Book Review

"Eight essays of varying length, all reprinted from The New Yorker, make up this collection of vintage McPhee. Most of the pieces deal with people who have taken the less traveled path, such as Pat McConnell, who is in charge of all New Jersey's fur-bearing mammals, including bears (yes, there are bears in New Jersey); Richard Hutchinson, who runs a truly tinkertoy power company in Circle City, Alaska; and Dr. David Jones, who practices family medicine in the far reaches of Aroostook County, Maine. Rather incongruously, there is also a profile of Senator Bill Bradley of New Jersey, the only celebrity included . . . Table of Contents is a civilized book in the best sense of that word." —Kenneth F. Kister, Library Journal

"These pieces demonstrate once again the many reasons for reading McPhee. He has a talent for unearthing arcane subject matter. He is an extraordinary stylist. His work is the standard by which most literary nonfiction is judged these days." —James Kaufmann,The Christian Science Monitor (Eastern edition)

"[This work] reflects McPhee's continuing interest in the natural aspect of this world, and he writes about natural things almost for love's sake alone and not in the disgruntled mode of some latter-day Thoreau. The opening essay, 'Under the Snow,' illustrates McPhee's beautifully controlled state of mind and temperament. It also exhibits his characteristic talent for getting unusual stories out of seemingly common materials--in this case, the revelation of the many black bears' dens in Pennsylvania. A precise and lovely prose describes a state biologist reaching into a den whose sow has been calmed by the hypodermic jab stick: 'From deeps of shining fur, he fished out cubs.' This is a is disarming kind of simplicity." —Thomas P. McDonnell, National Review
Farrar, Straus and Giroux, 9780374520083, 304pp.
Publication Date: October 1, 1986
About the Author
John McPhee was born in Princeton, New Jersey, and was educated at Princeton University and Cambridge University. His writing career began at Time magazine and led to his long association with The New Yorker, where he has been a staff writer since 1965. Also in 1965, he published his first book, A Sense of Where You Are, with Farrar, Straus and Giroux, and in the years since, he has written over 30 books, including Oranges (1967), Coming into the Country (1977), The Control of Nature (1989), The Founding Fish (2002), Uncommon Carriers (2007), and Silk Parachute (2011). Encounters with the Archdruid (1972) and The Curve of Binding Energy (1974) were nominated for National Book Awards in the category of science. McPhee received the Award in Literature from the Academy of Arts and Letters in 1977. In 1999, he was awarded the Pulitzer Prize for Annals of the Former World. He lives in Princeton, New Jersey.
or
Not Currently Available for Direct Purchase