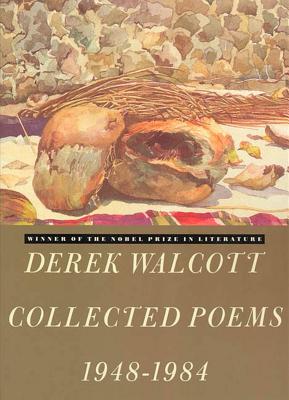 Derek Walcott Collected Poems 1948-1984 (Paperback)
Farrar Straus Giroux, 9780374520250, 515pp.
Publication Date: January 1, 1987
Description
This remarkable collection, which won the 1986 "Los Angeles Times" Book Prize for Poetry, includes most of the poems from each of Derek Walcott's seven prior books of verse and all of his long autobiographical poem, "Another Life." The 1992 Nobel Laureate in Literature, Walcott has been producing--for several decades--a poetry with all the beauty, wisdom, directness, and narrative force of our classic myths and fairy tales, and in this hefty volume readers will find a full record of his important endeavor. "Walcott's virutes as a poet are extraordinary," James Dickey wrote in "The New York Times Book Review." "He could turn his attention on anything at all and make it live with a reality beyond its own; through his fearless language it becomes not only its acquired life, but the real one, the one that lasts . . . Walcott is spontaneous, headlong, and inventive beyond the limits of most other poets now writing.
About the Author
Derek Walcott (1930-2017) was born in St. Lucia, the West Indies, in 1930. His Collected Poems: 1948-1984 was published in 1986, and his subsequent works include a book-length poem, Omeros (1990); a collection of verse, The Bounty (1997); and, in an edition illustrated with his own paintings, the long poem Tiepolo's Hound (2000). His numerous plays include The Haitian Trilogy (2001) and Walker and The Ghost Dance (2002). Walcott received the Queen's Medal for Poetry in 1988 and the Nobel Prize in Literature in 1992.
Praise For Derek Walcott Collected Poems 1948-1984…
"One of the most instructive experiences afforded by this collected edition is the spectacle of a poet moving with gradually deepening confidence to found his own poetic domain, independent of the tradition he inherited yet not altogether orphaned from it . . . This is a triumphant book."--Seamus Heaney, The Boston Globe

"It is difficult to think of a poet in our century who--without ever betraying his native sources--has so organically assimilated the evolution of English literature from the Renaissance to the present, who has absorbed the Classical and Judeo-Christian past, and who has mined the history of Western painting as Walcott has. Throughout his entire body of work he has managed to hold in balance his passionate moral concerns with the ideal of art. By his fifty-fifth year Derek Walcott has made his culture, history, and sociology into a myth for our age and into an epic song that has already taken its place in the history of Western literature."--Peter Balakian, Poetry
Advertisement