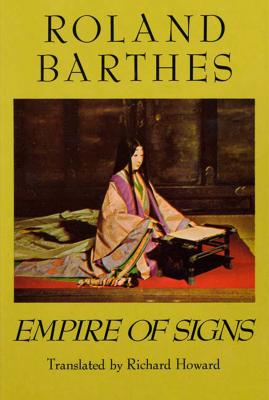 Empire of Signs (Paperback)
Hill & Wang, 9780374522070, 128pp.
Publication Date: September 1, 1983
Description
With this book, Barthes offers a broad-ranging meditation on the culture, society, art, literature, language, and iconography--in short, both the sign-oriented realities and fantasies--of Japan itself.
About the Author
Roland Barthes was born in 1915 and studied French literature and the classics at the University of Paris. After teaching French at universities in Romania and Egypt, he joined the Centre National de Recherche Scientifique, where he devoted himself to research in sociology and lexicology. He was a professor at the College de France until his death in 1980.
Praise For Empire of Signs…
"If Japan did not exist, Barthes would have had to invent it--not that Japan does exist in Empire of Signs, for Barthes is careful to point out that he is not analyzing the real Japan, there is no terrible innerness as in the West, no soul, no God, no fate, no ego, no grandeur, no metaphysics, no 'promotional fever' and finally no meaning . . . For Barthes Japan is a test, a challenge to think the unthinkable, a place where meaning is finally banished. Paradise, indeed, for the great student of signs." --Edmund White, The New York Times Book Review
Advertisement