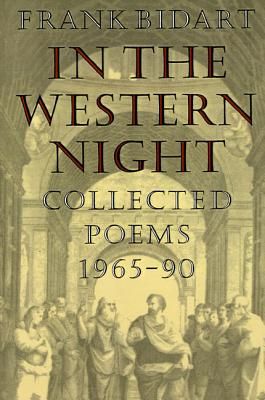 In the Western Night (Paperback)
Collected Poems, 1965-1990
Farrar, Straus and Giroux, 9780374522711, 256pp.
Publication Date: June 1, 1991
Other Editions of This Title:
Hardcover (5/1/1990)
* Individual store prices may vary.
Description
In the Western Night brings together in one volume all of the poems to date, including many previously unpublished poems, of one of the most exciting and gifted poets writing today.
About the Author
Frank Bidart is the author of Metaphysical Dog (FSG, 2013), Watching the Spring Festival (FSG, 2008), Star Dust (FSG, 2005), Desire (FSG, 1997), and In the Western Night: Collected Poems 1965-90 (FSG, 1990). He has won many prizes, including the Wallace Stevens Award, the 2007 Bollingen Prize in American Poetry, and the National Book Critics Circle Award. His book Half-Light: Collected Poems 1965-2016 won the 2018 Pulitzer Prize and the 2017 National Book Award. He teaches at Wellesley College and lives in Cambridge, Massachusetts.
Praise For In the Western Night: Collected Poems, 1965-1990…
"In the Western Night" establishes Frank Bidart's place among this century's most emotionally articular poets. His fine earlier books, published between 1973 and 1983, are here, surroudned by a selection of equally impressive newer pieces. Taken together, they constitute a hauntingly raw voice that finds itself through an exhilarating array of prosodic techniques. More than most of his post-confessional contemporaries, Bidart is unafraid of passion, and willing to harness his passion to words and structures...His voice, and the voices in his dramatic monologues, are unrelentingly curious and honest; and yet they inevitably back up against the greatest of mysteries." —Matthew Gilbert, The Boston Globe
"In the supreme poems, Bidart's spiritual force makes me...yield to the authority of the voice. "Ellen West" is a heartbreaking act of sympathy." —Denis Donoghue, The New Republic
"Achieves a grandeur of vision few poets nowadays can match." —Alan Shapiro, Chicago Tribune