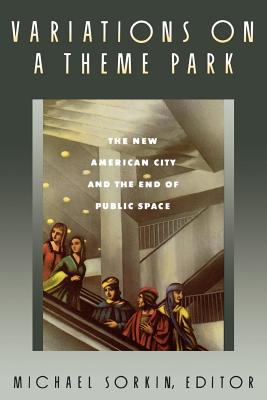 Variations on a Theme Park (Paperback)
The New American City and the End of Public Space
Hill and Wang, 9780374523145, 272pp.
Publication Date: March 1, 1992
* Individual store prices may vary.
Description
America's cities are being rapidly transformed by a sinister and homogenous design. A new Kind of urbanism--manipulative, dispersed, and hostile to traditional public space--is emerging both at the heart and at the edge of town in megamalls, corporate enclaves, gentrified zones, and psuedo-historic marketplaces. If anything can be described as a paradigm for these places, it's the theme park, an apparently benign environment in which all is structured to achieve maximum control and in which the idea of authentic interaction among citizens has been thoroughly purged. In this bold collection, eight of our leading urbanists and architectural critics explore the emblematic sites of this new cityscape--from Silicon Valley to Epcot Center, South Street Seaport to downtown Los Angeles--and reveal their disturbing implications for American public life.
About the Author
Michael Sorkin is an architect and urban planner, and the author and editor of many books, including All Over the Map, Against the Wall, Exquisite Corpse, and Variations on a Theme Park (Hill and Wang, 1992). He lives in New York City.
Praise For Variations on a Theme Park: The New American City and the End of Public Space…
"A fascinating account of the various kinds of manipulated but very real places in America today, this book is a model of cultural richness, strong critique, and vibrant history." —Gwendolyn Wright, author of Building the Dream: A Social History of Housing in America
"These witty and properly outraged essays are the best introduction I know to worsening urban scene from sea to poisoned sea. Clarifying and terrifying by turns, they don't let you off with any happy ending. This is the Blade Runner of urban analysis, the rapier at the end of the window, the autopsy of a future already over--unless, perhaps, everyone who loves cities reads this book." —Todd Gitlin, author of The Sixties: Years of Hope, Days of Rage
"This is a scathing indictment of visual image and power. It shows the American landscape turned inside out: the conviction that all places are the same, that we are in constant movement to get there, that our search for authority and authenticity in the built environment winds up excluding others and buying into a visual theme." —Sharon Zuckin, author of Landscapes of Power: From Detroit to Disney World