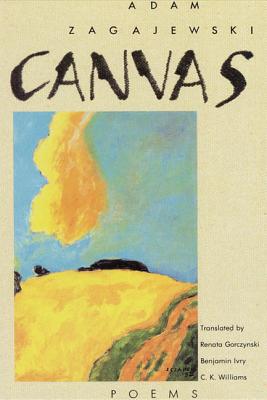 Canvas
Poems
Paperback

* Individual store prices may vary.
Description
Canvas, Zagajewski's second book to appear in English, features all of this poet's distinctive traits. In these sixty-one poems, syntax explodes, masses of detail spill from profuse catalogs, lines break in ways apt but unexpected, and compressed lyrics alternate with extended riffs. European culture is the poet's native province throughout these explorations, and time is a recurrent metaphysical concern.
Praise For Canvas: Poems…
"Zagajewski's shrewd, clear, passionate poems have a distinctive way of touching the relation of historical reality to the lives of individuals, and to art . . . [He] deserves the attention of readers accustomed to swerve away from poetry. And moreover, he is good: the unmistakable quality of the real thing." —Robert Pinsky, The New Republic
"[Though translated into] English, these are still powerful, original poems . . . [Zagajewski's] poetry, even at its most delicate, has the authenticity, the 'I've seen this, I've lived with what came of this,' the life-as-part-of-history, that few American poets can lay claim to." —Gail Mazur, The Boston Sunday Globe
"From his poetry we learn how deeply history and the individual interact, how cruelly mass culture threatens the frail psychological construct of the self, and how deeply poetry can penetrate the gray mist of power that conceals the seams of contemporary civilization." —William Doreski, The Harvard Review
"The 'canvas' in the title of this new collection by Polish poet Zagajewski refers primarily to the artist's canvas, on which surreal images and memorable collections of dreamlike objects are created. A portrait of Europe emerges--Europe as the home of Mozart, Schumann, Chopin, Schubert, and Bruckner, of Gothic cathedrals with their 'ribs of granite,' of philosophers like Nietzsche with his 'head like a bullet.' Zagajewski is a born phrase-maker, inventing 'tents of trees' and the 'weasels' of memory. And he wisely recognizes that the canvas can also be a shroud, because in the end everyone must swallow 'a dose of death.' Beautifully translated and recommended for all larger collections." —Library Journal
Farrar, Straus and Giroux, 9780374523985, 96pp.
Publication Date: April 1, 1994
About the Author
Adam Zagajewski was born in Lvov in 1945. His books include Tremor; Canvas; Mysticism for Beginners; Without End; Solidarity, Solitude; Two Cities; Another Beauty; A Defense of Ardor; Eternal Enemies;and Unseen Hand—all published by FSG. He lives in Chicago and Kraków.

C. K. Williams (1936–2015) published twenty-two books of poetry including, Flesh and Blood, which won the National Book Critics Circle Award; Repair, which won the Pulitzer Prize in Poetry; and The Singing, winner of the National Book Award. Williams was awarded the Ruth Lilly Poetry Prize in 2005. He wrote a critical study, On Whitman; a memoir, Misgivings; and two books of essays, Poetry and Consciousness and In Time: Poets, Poems,and the Rest.