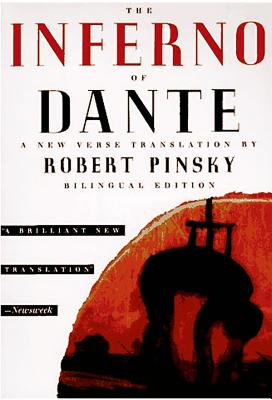 The Inferno of Dante
A New Verse Translation, Bilingual Edition
Paperback

* Individual store prices may vary.
Other Editions of This Title:
Paperback, Italian (9/1/1997)
Description
This widely praised version of Dante's masterpiece, which won the Los Angeles Times Book Prize and the Harold Morton Landon Translation Award of the Academy of American Poets, is more idiomatic and approachable than its many predecessors. Former U.S. Poet Laureate Pinsky employs slant rhyme and near rhyme to preserve Dante's terza rima form without distorting the flow of English idiom. The result is a clear and vigorous translation that is also unique, student-friendly, and faithful to the original: "A brilliant success," as Bernard Knox wrote in The New York Review of Books.
Praise For The Inferno of Dante: A New Verse Translation, Bilingual Edition…
"Splendid . . . Pinsky's verse translation is fast-paced, idiomatic, and accurate. It moves with the concentrated gait of a lyric poem . . . It maintains the original's episodic and narrative velocity while mirroring its formal shape and character . . . Pinsky succeeds in creating a supple American equivalent for Dante's vernacular music where many others have failed." —Edward Hirsch, The New Yorker

"Pinsky's rare gifts as a poet, a wild imagination disciplined by an informed commitment to technical mastery, are superbly well suited to the Inferno's immense demands. Pinsky has managed to capture the poem's intense individuality, passion, and visionary imagery. This translation is wonderfully alert to Dante's strange blend of fierceness and sympathy, clear-eyed lucidity and heart-stopping wonder. It is now the premier modern text for readers to experience Dante's power." —Stephen Greenblatt

"A new translation of Dante's classic poem uses slant rhyme and near rhyme to preserve the original terza rima form without distorting the English meaning, providing a lively and faithful rendition of the poem. " —Ingram
Farrar, Straus and Giroux, 9780374524524, 384pp.
Publication Date: March 30, 1996
About the Author
Dante Alighieri, or simply Dante (1265 – 1321), was an Italian poet from Florence. His central work, the Divina Commedia (originally called "Commedia" and later called "Divina" (divine) by Boccaccio hence "Divina Commedia"), is considered the greatest literary work composed in the Italian language and a masterpiece of world literature.

A former Poet Laureate of the United States, Robert Pinsky was born and raised in Long Branch, New Jersey. In addition to his books of poetry and The Inferno of Dante, he has written prose works, including The Life of David and The Sounds of Poetry.

Michael Mazur illustrated The Inferno of Dante from Farrar, Straus and Giroux.