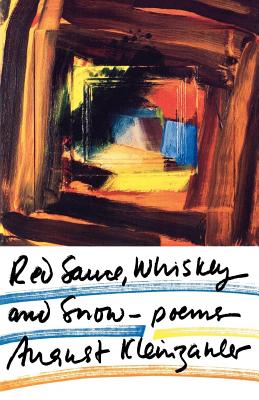 Red Sauce, Whiskey and Snow: Poems (Paperback)
Poems
Farrar, Strauss & Giroux-3pl, 9780374524722, 112pp.
Publication Date: May 30, 1996
Description
This is a book of jazzy, edgy, adventuresome poems from the author of "Earthquake Weather" and "Like Cities, Like Storms." Ever aware, ever vivid, ever focused, Kleinzahler's are some of the finest lyrics being produced in American poetry today. "Pieces of ordinary talk are Kleinzahler's strong suit," as Helen Vendler observed in "Parnassus," "because they occur in his glancing, alert rhythms. . . . His] jaunty skips and riffs solace the ear." "Red Sauce, Whiskey and Snow" presents an experimental poetry of exceptional wit and control.
About the Author
August Kleinzahler published his first book of poetry, A Calendar of Airs, in 1978. Since then, he has published seven others. In 2003, Farrar, Straus and Giroux published The Strange Hours Travelers Keep, which won the 2004 Griffin International Poetry Prize. His most recent collection of poetry, Sleeping It Off in Rapid City, won the 2008 National Book Critics Circle Award. He is also the author of two books of prose, Cutty, One Rock: Low Characters and Strange Places, Gently Explained (FSG, 2004) and Music: I-LXXIV (Pressed Wafer, 2009), and the winner of the 2008 Lannan Literary Award for Poetry. A native of Fort Lee, New Jersey, Kleinzahler currently lives in San Francisco.
Praise For Red Sauce, Whiskey and Snow: Poems…
"Kleinzahler makes lyric sense of urban grit and neon. His wide-awake poems have an intimacy of attention new to American writing. Read him slowly: study the details: every phase is an event."--Guy Davenport

"Kleinzahler's poems in Red Sauce, Whiskey, and Snow twitch and jerk and snap their fingers at you all the time. High and low vocabularies hang out together. They are hectic, pulsing things, ever alive to the music of words when spoken. The atmosphere is that of some all-night emporium in which every item is on sale for one dollar. In these democratic qualities, they take us back to Walt Whitman and his inventive restlessness with words. They are expansive, energetic and, from time to time, a touch crazed: an authentically American voice."--The Economist
Advertisement