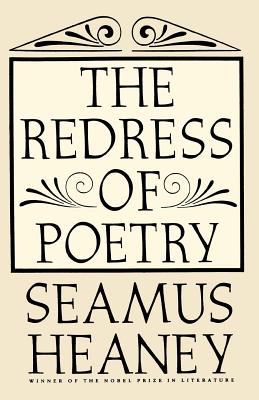 The Redress of Poetry (Paperback)
Farrar, Straus and Giroux, 9780374524883, 240pp.
Publication Date: October 30, 1996
* Individual store prices may vary.
Description
Seamus Heaney defines the title of this work of criticism as follows: "To redress poetry is to know and celebrate it for its forcibleness as itself . . . not only as a matter of profferd argument and edifying content but as a matter of angelic potential, a motion of the soul." Throughout this collection, Heaney's insight and eloquence are themselves of a poetic order.
About the Author
Seamus Heaney (1939-2013) received the Nobel Prize in Literature in 1995. His poems, plays, translations, and essays include Opened Ground, Electric Light, Beowulf, The Spirit Level, District and Circle, and Finders Keepers. Robert Lowell praised Heaney as the "most important Irish poet since Yeats."
Praise For The Redress of Poetry…
"Nobel laureate Heaney is a pastoralist with a strong and critical sense of history. His rich and earthy poems are about the life of the land of northern Ireland as well as the evolution of the heavily mythologized Irish identity. Heaney's sonorous lyricism stems from his love of the cycles of country life, the mystery of the sea, the satisfying rhythm of hard, physical work. But Heaney loves poetry and poetics as well as nature and expresses this passion in his forceful if demanding literary essays. This is his third book of criticism, and it contains 10 lectures Heaney delivered as professor of poetry at Oxford. In the title essay, Heaney explains how poetry balances the 'scales of reality towards some transcendent equilibrium.' After considering all the burdens contemporary poets carry, from the long tradition of the form itself to pressing political perspectives, Heaney still insists that 'poetry cannot afford to lose its fundamentally self-delighting inventiveness.' This viewpoint underlies his shrewd essays on George Herbert, Christopher Marlowe, the Irish poet Brian Merriman, Dylan Thomas, Philip Larkin, and Elizabeth Bishop." —Booklist