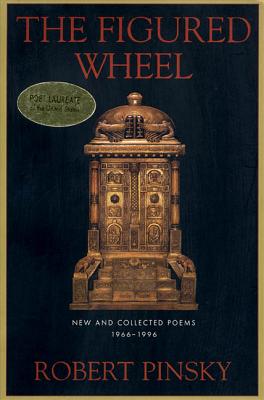 The Figured Wheel
New and Collected Poems, 1966-1996
Paperback

* Individual store prices may vary.
Description
The Figured Wheel fully collects the first four books of poetry, as well as twenty-one new poems, by Robert Pinsky, the former U.S. Poet Laureate.

Critic Hugh Kenner, writing about Pinsky's first volume, described this poet's work as "nothing less than the recovery for language of a whole domain of mute and familiar experience." Both the transformation of the familiar and the uttering of what has been hitherto mute or implicit in our culture continue to be central to Pinsky's art. New poems like "Avenue" and "The City Elegies" envision the urban landscape's mysterious epitome of human pain and imagination, forces that recur in "Ginza Samba," an astonishing history of the saxophone, and "Impossible to Tell," a jazz-like work that intertwines elegy with both the Japanese custom of linking-poems and the American tradition of ethnic jokes. A final section of translations includes Pinsky's renderings of poems by Czeslaw Milosz, Paul Celan, and others, as well as the last canto of his award-winning version of the Inferno.
Praise For The Figured Wheel: New and Collected Poems, 1966-1996…
"Pinsky's decision to reprint his four previous volumes in their entirety, without revision, requires some daring: how many poets would not benefit from selection? Daring of one kind or another has always been a feature of Pinsky's work, although it showed itself first in his refusal to be daring in the easily recognizable ways represented by confessional poetry and surrealism, the modes that dominated poetic taste when Pinsky began publishing. In defiance of those fashions, Pinsky set out to write a sociable poetry of ordinary life, relying on earnest sentiment, rational exposition, and a certain modest cleverness. The results of that program still seem fresh today, twenty years after Sadness and Happiness, Pinsky's first book of poems, appeared in 1975." —Langdon Hammer, The Yale Review

"There are times in these poems when one feels . . . that what is presented as a kind of grand vision of humanity is a version of self-delight. As with Whitman [there is] a potential for coldness in Mr. Pinsky's wide-angle vision. Most of the time, though, the poems of his maturity manage their startling shifts and juxtapositions in ways that give intellectual and sensuous delight. . . . What makes Mr. Pinsky such a rewarding and exciting writer is the sense he gives, in the very shape and structure of his poems, of getting at the depths of human experience, in which everything is always repeated but also always new. The feathery and furry tribal gods, Jesus, Basho, the frail old people who came to his father for eyeglasses . . . and Robert Pinsky himself are all characters in a story that has no end, and possibly no ultimate meaning, either, but to which we listen spellbound because . . . it is our story." —Katha Pollitt, The New York Times Book Review

"Since the death of Robert Lowell in 1977, no single figure has dominated American poetry the way that Lowell, or before him Eliot, once did. . . . But among the many writers who have come of age in our fin de siecle, none have succeeded more completely as poet, critic, and translator, than Robert Pinsky." —James Longenbach, The Nation
Farrar, Straus and Giroux, 9780374525064, 320pp.
Publication Date: April 7, 1997
About the Author
A former Poet Laureate of the United States, Robert Pinsky was born and raised in Long Branch, New Jersey. In addition to his books of poetry and The Inferno of Dante, he has written prose works, including The Life of David and The Sounds of Poetry.