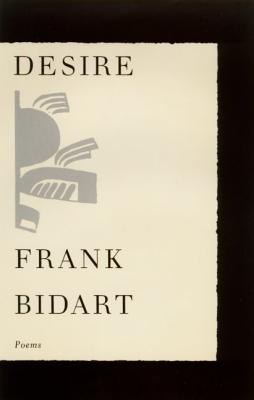 Desire (Paperback)
Poems
Farrar, Straus and Giroux, 9780374525996, 84pp.
Publication Date: March 30, 1999
* Individual store prices may vary.
Description
Nominated for the National Book Critics Circle Award for Poetry.
I hate and--love. The sleepless body hammering a nail nails itself, hanging crucified.--from "Catullus: Excrucior" In Frank Bidart's collection of poems, the encounter with desire is the encounter with destiny. The first half contains some of Bidart's most luminous and intimate work-poems about the art of writing, Eros, and the desolations and mirror of history (in a spectacular narrative based on Tacitus). The second half of the book exts the overt lyricism of the opening section into even more ambitious territory-"The Second Hour of the Night" may be Bidart's most profound and complex meditation on the illusion of will, his most seductive dramatic poem to date.
Desire is a 1997 National Book Award Finalist for Poetry.
About the Author
Frank Bidart is the author of Metaphysical Dog (FSG, 2013), Watching the Spring Festival (FSG, 2008), Star Dust (FSG, 2005), Desire (FSG, 1997), and In the Western Night: Collected Poems 1965-90 (FSG, 1990). He has won many prizes, including the Wallace Stevens Award, the 2007 Bollingen Prize in American Poetry, and the National Book Critics Circle Award. His book Half-Light: Collected Poems 1965-2016 won the 2018 Pulitzer Prize and the 2017 National Book Award. He teaches at Wellesley College and lives in Cambridge, Massachusetts.
Praise For Desire: Poems…
"[Desire] is insightful, disturbing, complex, personal, painstaking, and driven. Almost no poet since Robert Lowell . . . has written verse that so successfully exemplifies these qualities." —Stephen Burt, The New Leader
"Cementing his reputation as a poet of astonishing originality, Bidart revisits classical encounters--the aftermath of a battle described by Tacitus, an incestuous romance in Ovid--and fashions them into a poetic idiom uniquely his own." —David Lehman, People