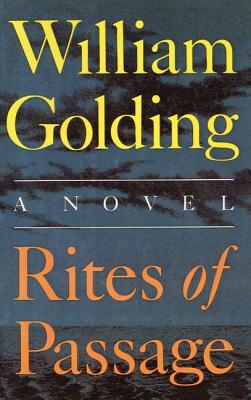 Rites of Passage (Paperback)
A Novel (To the Ends of the Earth #1)
Farrar, Straus and Giroux, 9780374526405
Publication Date: October 1, 1999
Other Editions of This Title:
Paperback (11/7/2013)
Analog Audio Cassette (3/1/1994)
* Individual store prices may vary.
Description
Winner of the 1980 Booker Prize
Sailing to Australia in the early years of the nineteenth century, Edmund Talbot keeps a journal to amuse his godfather back in England. Full of wit and disdain, he records the mounting tensions on the ancient, sinking warship where officers, sailors, soldiers and emigrants jostle in the cramped spaces below decks.
Then a single passenger, the obsequious Reverend Colley, attracts the animosity of the sailors, and in the seclusion of the fo'castle something happens to bring him into a "hell of degradation," where shame is a force deadlier than the sea itself.
William Golding's To the Ends of the Earth trilogy is now a BBC/PBS Masterpiece miniseries staring Benedict Cumberbatch, Jared Harris and Sam Neill.
To the Ends of the Earth:
1. Rites of Passage
2. Close Quarters
3. Fire Down Below
About the Author
William Golding (1911-93) was born in Cornwall, England. His first novel, Lord of the Flies, was published in 1954 and became an international bestseller. In 1983, he was awarded the Nobel Prize in Literature.
Praise For Rites of Passage: A Novel (To the Ends of the Earth #1)…
"Beautifully poised between comedy and dread...splendidly, elegantly phrased." - Kirkus Reviews (starred review)
"It takes a special kind of genius to be able to recreate such convincing early 19th-century prose... A bravura display of writing skill." - The Guardian

"A first-rate historical novel that is also a novel of ideas--a taut, beautifully controlled short book with none of the windiness or costumed pageantry so often associated with fiction attempts to reanimate the past... [It is] the best of Golding's novels since Lord of the Flies." - The New York Review of Books
"As skillful and resonant as the best of William Golding's other novels, which are among the best written by any Englishman these past twenty-five years." - The New York Times Book Review
"An extraordinary tour de force that has something in common with Melville's Billy Budd, Conrad's Nigger of the Narcissus and even Coleridge's The Ancient Mariner... Provides readers with still another instance of William Golding's virtuosity and moral stamina." - Philadelphia Inquirer