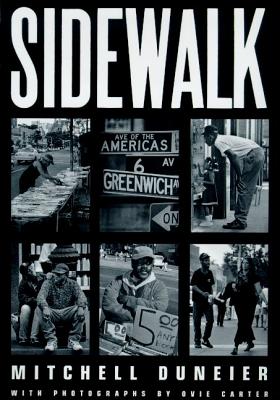 Sidewalk
Paperback

* Individual store prices may vary.
Description
An exceptional ethnography marked by clarity and candor, Sidewalk takes us into the socio-cultural environment of those who, though often seen as threatening or unseemly, work day after day on "the blocks" of one of New York's most diverse neighborhoods. Sociologist Duneier, author of Slim's Table, offers an accessible and compelling group portrait of several poor black men who make their livelihoods on the sidewalks of Greenwich Village selling secondhand goods, panhandling, and scavenging books and magazines.

Duneier spent five years with these individuals, and in Sidewalk he argues that, contrary to the opinion of various city officials, they actually contribute significantly to the order and well-being of the Village. An important study of the heart and mind of the street, Sidewalk also features an insightful afterword by longtime book vendor Hakim Hasan. This fascinating study reveals today's urban life in all its complexity: its vitality, its conflicts about class and race, and its surprising opportunities for empathy among strangers.

Sidewalk is an excellent supplementary text for a range of courses:

INTRODUCTION TO SOCIOLOGY: Shows how to make important links between micro and macro; how a research project works; how sociology can transform common sense.

RACE AND ETHNIC RELATIONS: Untangles race, class, and gender as they work together on the street.

URBAN STUDIES: Asks how public space is used and contested by men and women, blacks and whites, rich and poor, and how street life and political economy interact.

DEVIANCE: Looks at labeling processes in treatment of the homeless;
interrogates the "broken windows" theory of policing.

LAW AND SOCIETY: Closely examines the connections between formal and informal systems of social control.

METHODS: Shows how ethnography works; includes a detailed methodological appendix and an afterword by research subject Hakim Hasan.

CULTURAL ANTHROPOLOGY: Sidewalk engages the rich terrain of recent developments regarding representation, writing, and authority; in the tradition of Elliot Liebow and Ulf Hannerz, it deals with age old problems of the social and cultural experience of inequality; this is a telling study of culture on the margins of American society.

CULTURAL STUDIES: Breaking down disciplinary boundaries, Sidewalk shows how books and magazines are received and interpreted in discussions among working-class people on the sidewalk; it shows how cultural knowledge is deployed by vendors and scavengers to generate subsistence in public space.

SOCIOLOGY OF CULTURE: Sidewalk demonstrates the connections between culture and human agency and innovation; it interrogates distinctions between legitimate subcultures and deviant collectivities; it illustrates conflicts over cultural diversity in public space; and, ultimately, it shows how conflicts over meaning are central to social life.
Praise For Sidewalk…
"Sidewalk will radically change the way we think about 'the public sphere.'" —Robin D. G. Kelley, author of Yo Mama's Disfunktional!

"An inspired, yet strategically conceived work that restores a sense of new possibility and passion to ethnography just as it was threatened by cliche through its recent popularity." —George Marcus, author of Ethnography through Thick and Thin

"[Sidewalk] is in the best tradition of participant observation. If I were still teaching, I would want all of my students to read this book." —William Foote Whyte, author of Street Corner Society

"An exciting and original approach to the problems of urban life, informed by years of intensive participation and by a deep understanding of social science thinking. No one has combined theory and intimate knowledge of city streets as successfully. A masterpiece of fieldwork." —Howard S. Becker, author of Outsiders

"Duneier must be one of the outstanding ethnographers of our time: he renders visible what typically remains submerged as we take in the world at street level. This is a deep, complex, moving book that yanks you out of your own lived experiences of that world and draws you to another." —Saskia Sassen, author of The Global City

"[A] magnificent book . . . Duneier is a professor of sociology, but he has a superb journalist's ear for quotes and the ability to limn character and scene. He writes, that is, as very few sociologists do: he stays on for years, immersed in his subject, as virtually no journalist will do." —Richard Eder, The New York Times

"A necessary book . . . A work of frontline reportage, an inquiry into the economic and political and moral forces that are busy reconfiguring the city, [and] an urgent plea for justice, however couched it is in the careful, procedural, understating style of fieldwork." —Luc Sante, Village Voice Literary Supplement

"Sidewalk is an intellectual treat and a student turn-on. I'm using it in my urban studies course and as a key reading for introductory sociology." —Harvey Molotch, co-author, Urban Fortunes

"Insightful and compelling . . . . Capture[s] the pathos, struggle, joy, honor and dignity of the men and women of 'the sidewalk.'" —Elaine Rivera, Chicago Tribune

"Sidewalk brings us close to the hustle and bustle of urban street life--the book is a knowing, thoughtful exploration that will earn it a place among the classics of the documentary tradition." —Robert Coles

"A nuanced study of the lives of impoverished street vendors in New York's Greenwich Village . . . . A work that adds much to our understanding of race, poverty, and our reactions to them." —Kirkus Reviews

"I suspect this exemplary ethnography will, like Street Corner Society, speak to generations of readers . . . . The photos by Ovie Carter . . . and the appendix on method are worth the price of entry . . . . The entire book demonstrates . . . scrupulous care, caring, and respect . . . . Duneier uses theory to help him understand and explicate his observations, never for its own sake. Like all classic fieldworkers he is open to learn, to change, as a result of the ethnographic experience." —Joan Cassell, Washington University, American Anthropologist
Farrar, Straus and Giroux, 9780374527259, 400pp.
Publication Date: December 20, 2000
About the Author
Mitchell Duneier is an associate professor of sociology at the University of Wisconsin-Madison and the University of California at Santa Barbara. His first book, Slim's Table, received the 1994 Distinguished Publication Award from the American Sociological Association.

Ovie Carter, a photographer for the Chicago Tribune, has received the Pulitzer Prize and multiple awards of Excellence from the National Association of Black Journalists.