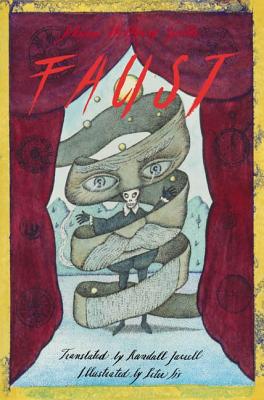 Faust (Paperback)
Part 1
Farrar, Strauss & Giroux-3pl, 9780374527860, 320pp.
Publication Date: December 7, 2001
* Individual store prices may vary.
Description
Goethe's classic, enlivened by Randall Jarrell's fine translation and Peter Sis's dark, dreamy illustrations
Randall Jarrell's translation of Faust is one of his most important achievements. In 1957 he inscribed Goethe's motto on the first page of his notebook--"Ohne Hast aber ohne Rast" ("Without haste but without rest")--and from then until his death in 1965 he worked on the masterpiece of his "own favorite daemon, dear good great Goethe." His intent was to make the German poetry free, unrhymed poetry in English. He all but finished the job before he died, and the few lines that remained untouched--"Gretchen's Room"--were rendered into English by Robert Lowell.
This elegant new edition features numerous beautiful line drawings and jacket lettering by the renowned Czech artist Peter Sis, author of the award-winning books Starry Messenger: Galileo Galilei and Tibet: Through the Red Box.
About the Author
Randall Jarrell, born in 1914 in Nashville, Tennessee, was a prolific poet, critic, and translator. At point one point, he served as Poet Laureate. His Complete Poems are available from FSG. He died in Chapel Hill, North Carolina in 1965. Peter Sis is an internationally acclaimed artist and five-time winner of the New York Times Book Review Best Illustrated Book of the Year Award. He is the author of Starry Mesenger, Madlenka's Dog, Three Golden Keys, Galileo Galilei and Tibet: Through the Red Box.
Praise For Faust: Part 1…
"Jarrell's lines, house-trained and pellucid, hover around truism, then skip ahead into originality . . . His ageless voice . . . pushes through the skein of Goethe's" --Wayne Koestenbaum, Bookforum