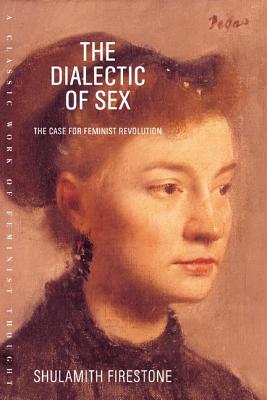 The Dialectic of Sex
The Case for Feminist Revolution
Paperback

* Individual store prices may vary.
Description
"No one can understand how feminism has evolved without reading this radical, inflammatory second-wave landmark." —Naomi Wolf

Originally published in 1970, when Shulamith Firestone was just twenty-five years old, and going on to become a bestseller, The Dialectic of Sex was the first book of the women's liberation movement to put forth a feminist theory of politics.

Beginning with a look at the radical and grassroots history of the first wave (with its foundation in the abolition movement of the time), Firestone documents its major victory, the granting of the vote to women in 1920, and the fifty years of ridicule that followed. She goes on to deftly synthesize the work of Freud, Marx, de Beauvoir, and Engels to create a cogent argument for feminist revolution. Identifying women as a caste, she declares that they must seize the means of reproduction—for as long as women (and only women) are required to bear and rear children, they will be singled out as inferior. Ultimately she presents feminism as the key radical ideology, the missing link between Marx and Freud, uniting their visions of the political and the personal.

In the wake of recent headlines bemoaning women's squandered fertility and the ongoing debate over the appropriate role of genetics in the future of humanity, The Dialectic of Sex is revealed as remarkably relevant to today's society—a testament to Shulamith Firestone's startlingly prescient vision. Firestone died in 2012, but her ideas live on through this extraordinary book.
Praise For The Dialectic of Sex: The Case for Feminist Revolution…
"The Dialectic of Sex is a must-have for those interested in feminist theory, both past and present. It's reappearance now, during yet another period of 'ridicule' towards women's rights, is perhaps even more pertinent than its first publication." —Kathleen Hanna, founding member of the Riot Grrrls movement

"The Dialectic of Sex is a truly visionary work. Thirty years later, many of Firestone's ideas remain startlingly relevant, making Dialectic essential reading not only for its value as feminist history but its contribution to feminism's future." —Lisa Miya-Jervis, editor and publisher Bitch: Feminist Response to Pop Culture

"Although Gen X women like to fancy ourselves the "freshmakers" of feminism, Shulamith Firestone reminds us that sisters have been "keeping it real" long before that expression was even invented. These power-packed chapters are live and direct, with a cultural shelf life that spans well into our times." —Ophira Edut, editor Body Outlaws: Young Women Write about Body Image and Identity, founder and publisher HUES magazine
Farrar, Straus and Giroux, 9780374527877, 240pp.
Publication Date: March 5, 2003
About the Author
Shulamith Firestone (1945 - 2012) was a founder of the women's liberation movement and editor of Notes, a journal of radical feminism. A key figure of second-wave feminism, Firestone's best known for her groundbreaking work The Dialectic of Sex.
or
Not Currently Available for Direct Purchase