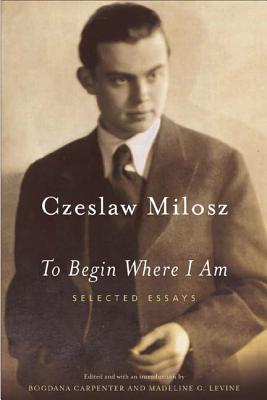 To Begin Where I Am (Paperback)
Selected Essays
Farrar, Straus and Giroux, 9780374528591, 480pp.
Publication Date: October 2, 2002
Other Editions of This Title:
Hardcover (10/1/2001)
* Individual store prices may vary.
Description
A comprehensive selection of essays--some never before translated into English--by the Nobel Laureate.
To Begin Where I Am brings together a rich sampling of poet Czeslaw Milosz's prose writings. Spanning more than a half century, from an impassioned essay on human nature, wartime atrocities, and their challenge to ethical beliefs, written in 1942 in the form of a letter to his friend Jerzy Andrzejewski, to brief biographical sketches and poetic prose pieces from the late 1990s, this volume presents Milosz the prose writer in all his multiple, beguiling guises. The incisive, sardonic analyst of the seductive power of communism is also the author of tender, elegiac portraits of friends famous and obscure; the witty commentator on Polish complexes writes lyrically of the California landscape. Two great themes predominate in these essays, several of which have never appeared before in English: Milosz's personal struggle to sustain his religious faith, and his unswerving allegiance to a poetry that is "on the side of man."
About the Author
Czeslaw Milosz (1911-2004) was the winner of the 1978 Neustadt International Prize for Literature and the 1980 Nobel Prize in Literature. His last book was To Begin Where I Am (FSG, 2001). Many of his works have been translated into English, including, Beginning with My Streets (FSG, 1992), The Year of the Hunter (FSG, 1994), Road-side Dog (FSG, 1998) Milosz's ABC's (FSG, 2001) and To Begin Where I Am (FSG, 2001).
Praise For To Begin Where I Am: Selected Essays…
"To Begin Where I Am stands as the most complete one-volume edition of Milosz's prose writings available in English by "arguably the greatest living poet." —Edward Hirsch, The New York Times Book Review
"Milosz's vigorous and sinewy prose is that of a man of a particular historical moment...The reader will find, in both the expository essays and the incomparable portraits of his contemporaries, Milosz's characteristic intensity, momentum, and savage intelligence." —Helen Vendler, Harper's Magazine
"Extraordinary...These 400 or so pages document the development, over seven decades, of a great mind." —The Economist
"Beguiling...[Milosz] displays his genius for wedding palpable, personal loss to larger themes...[To Begin Where I Am] grants privileged access to a singular literary mind." —Carlin Romano, The Philadelphia Inquirer
"[This collection] could not have come at a better time...A remarkable body of work...Enlightening." —Cynthia L. Haven, San Francisco Chronicle Book Review