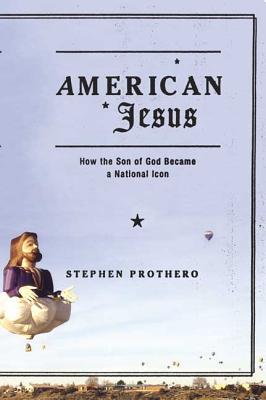 American Jesus (Paperback)
How the Son of God Became a National Icon
Farrar, Straus and Giroux, 9780374529567, 384pp.
Publication Date: September 18, 2004
Other Editions of This Title:
Hardcover (12/1/2003)
* Individual store prices may vary.
Description
Jesus the Black Messiah; Jesus the Jew; Jesus the Hindu sage; Jesus the Haight-Asbury hippie: these Jesuses join the traditional figure of Jesus Christ in American Jesus, which was acclaimed upon publication in hardcover as an altogether fresh exploration of American history--and as the liveliest book about Jesus to appear in English in years.
Our nation's changing images of Jesus, Stephen Prothero contends, are a kind of looking class into the national character. Even as most Christian believers cleave to a traditional faith, other people give Jesus a leading role as folk hero, pitchman, and countercultural icon. And so it has been since the nation's founding--from Thomas Jefferson, who took scissors to his New Testament to sort out true from false Jesus material; to the Jews, Buddhists and Muslims who fit Jesus into their own traditions; to the people who adapt Jesus for stage and screen and the Holy Land theme park. American Jesus is "a lively, illuminating and accessible survey that takes us into unexpected corners of our shared religious heritage" (Dan Cryer, Newsday).
About the Author
Stephen Prothero is the chairman of the Department of Religion at Boston University. He is the author of The White Buddhist: The Asian Odyssey of Henry Steel Olcott and Purified by Fire: Cremation in American Culture. He has written for Salon and other publications.
Praise For American Jesus: How the Son of God Became a National Icon…
"Prothero has crafted a marvelous book--and a great read--on a vital and absorbing subject." —Harvey Cox, author of Many Mansions: A Christian's Encounters with Other Faiths