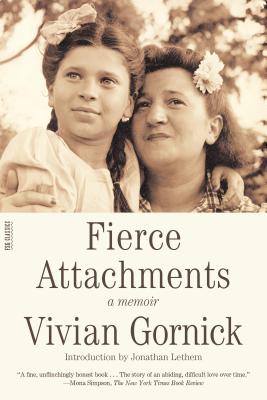 Fierce Attachments
A Memoir (FSG Classics)
Paperback

* Individual store prices may vary.
Other Editions of This Title:
Digital Audiobook (3/14/2022)
MP3 CD (5/17/2016)
Description
Vivian Gornick's Fierce Attachments—hailed by the New York Times for the renowned feminist author's "mesmerizing, thrilling" truths within its pages—has been selected by the publication's book critics as the #1 Best Memoir of the Past 50 Years.

In this deeply etched and haunting memoir, Vivian Gornick tells the story of her lifelong battle with her mother for independence. There have been numerous books about mother and daughter, but none has dealt with this closest of filial relations as directly or as ruthlessly. Gornick's groundbreaking book confronts what Edna O'Brien has called "the principal crux of female despair": the unacknowledged Oedipal nature of the mother-daughter bond.

Born and raised in the Bronx, the daughter of "urban peasants," Gornick grows up in a household dominated by her intelligent but uneducated mother's romantic depression over the early death of her husband. Next door lives Nettie, an attractive widow whose calculating sensuality appeals greatly to Vivian. These women with their opposing models of femininity continue, well into adulthood, to affect Gornick's struggle to find herself in love and in work.

As Gornick walks with her aged mother through the streets of New York, arguing and remembering the past, each wins the reader's admiration: the caustic and clear-thinking daughter, for her courage and tenacity in really talking to her mother about the most basic issues of their lives, and the still powerful and intuitively-wise old woman, who again and again proves herself her daughter's mother.

Unsparing, deeply courageous, Fierce Attachments is one of the most remarkable documents of family feeling that has been written, a classic that helped start the memoir boom and remains one of the most moving examples of the genre.

"[Gornick] stares unflinchingly at all that is hidden, difficult, strange, unresolvable in herself and others—at loneliness, sexual malice and the devouring, claustral closeness of mothers and daughters…[Fierce Attachments is] a portrait of the artist as she finds a language—original, allergic to euphemism and therapeutic banalities—worthy of the women that raised her."—The New York Times
Praise For Fierce Attachments: A Memoir (FSG Classics)…
"There's a clarity to this memoir that's so brilliant it's unsettling; Gornick finds a measure of freedom in her writing and her feminist activism, but even then, she and her mother can never let each other go." — Jennifer Szalai, The New York Times Book Review

"There are only so many words in the dictionary with which to say how very good this book is. Fierce Attachments deserves them all." —The Washington Post Book World

"Gornick is a distinctive and startling artist--the true subject of this brilliant book." —The Nation

"Searingly intimate and courageous... Gornick's writing is brilliant, clean, and colorful, simultaneously evoking the inner and outer spaces she is trying to illuminate." —Mother Jones

"Inspiring... Gornick carves, in careful, electrifying words, each scar and glory of her unconventional life." —Guardian Book Supplement
Farrar, Straus and Giroux, 9780374529963, 224pp.
Publication Date: September 14, 2005
About the Author
Vivian Gornick's books include Approaching Eye Level, The End of The Novel of Love, and The Situation and The Story. She lives in New York City.