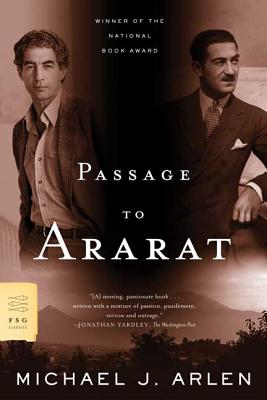 Passage to Ararat (FSG Classics)
Paperback

* Individual store prices may vary.
Description
In Passage to Ararat, which received the National Book Award in 1976, Michael J. Arlen goes beyond the portrait of his father, the famous Anglo-Armenian novelist of the 1920s, that he created in Exiles to try to discover what his father had tried to forget: Armenia and what it meant to be an Armenian, a descendant of a proud people whom conquerors had for centuries tried to exterminate. But perhaps most affectingly, Arlen tells a story as large as a whole people yet as personal as the uneasy bond between a father and a son, offering a masterful account of the affirmation and pain of kinship.
Praise For Passage to Ararat (FSG Classics)…
"More than an excursion into a place...the whole work glows like a jewel with the warmth of humanity and the appreciation, hard won, of both strength and weakness." —Eugenia Thornton, Cleveland Plain Dealer

"Beautifully written and stunning in its insight and honesty... One comes to see that the object of Arlen's search is not only, or even primarily, Armenia or Armenians, but himself and his father." —David Milofsky, Milwaukee Journal

"[A] moving, passionate book....written with a mixture of passion, puzzlement, sorrow, and outrage." —Jonathan Yardley, Washington Post

"Beautifully moving.... The reader becomes captivated with exotic tales from the past and joins Arlen's journey with zest in this quite marvelous record." —William Hogan, San Francisco Chronicle
Farrar, Straus and Giroux, 9780374530129, 312pp.
Publication Date: May 16, 2006
About the Author
Michael J. Arlen's books include Exiles (nominated for a National Book Award), Passage to Ararat (winner of a National Book Award), and three collections of essays on television: Living-Room War, The View from Highway 1, and The Camera Age.