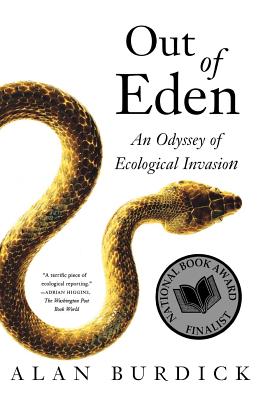 Out of Eden
An Odyssey of Ecological Invasion
Paperback

* Individual store prices may vary.
Description
Now as never before, exotic animals and plants are crossing the globe, borne on the swelling tide of human traffic to places where nature never intended them to be. Bird-eating snakes hitchhike to Hawaii in the landing gear of airliners; pernicious European zebra mussels, riding in ships' ballast water, disrupt aquatic ecosystems across the United States; feral camels and poisonous foreign toads plague Australia; giant Indonesian pythons lurk beneath homes in suburban Miami. As alien species jump from place to place and increasingly crowd native and endangered species out of existence, biologists speak fearfully of "the homogenization of the world." Never mind bulldozers and pesticides: the fastest growing threat to biological diversity may be nature itself.
Out of Eden is a dazzling personal journey through this strange and shifting landscape. Alan Burdick tours the front lines of ecological invasion in the company of world-class scientists: in Hawaii, Tasmania, Guam, San Francisco; in lush rain forests, aboard an Alaska-bound oil tanker, inside a spacecraft-assembly facility at NASA. Wry and reflective, animated and provocative, Out of Eden is a search both for scientific answers and for ecological authenticity, from a writer of remarkable range and talent.
Out of Eden is a 2005 National Book Award Finalist for Nonfiction.
Praise For Out of Eden: An Odyssey of Ecological Invasion…
"A terrific piece of ecological reporting . . . I love its dispassionate tone and broad, ultimately sanguine perspective." —Adrian Higgins, The Washington Post
"Graceful and inviting." —Richard Conniff, The New York Times Book Review
"One of the most comprehensive and readable accounts of the phenomenon." —Bill McKibben, The Boston Globe
"It's a wonderful book. . . [Alan Burdick] writes with graceful simplicity." —Richard Seven, The Seattle Times
"Highly readable and thought-provoking." —Allan Watt, New Scientist
"His tour through the burgeoning discipline of invasion ecology is nuanced, judicious and often delightful; in the finest tradition of science writing." —Andrew O'Hehir, Salon.com
"Burdick has a gift for compacting large quantities of time into a handful of trim, lovely sentences. . .This is what good books are about." —Anthony Doerr, The Boston Globe
Farrar, Straus and Giroux, 9780374530433, 352pp.
Publication Date: May 2, 2006
About the Author
Alan Burdick's articles and essays have appeared in The New York Times Magazine, Best American Science and Nature Writing, Harper's, GQ, Natural History, and Discover, where he is a senior editor. He is the author of Out of Eden and lives with his wife in New York City.