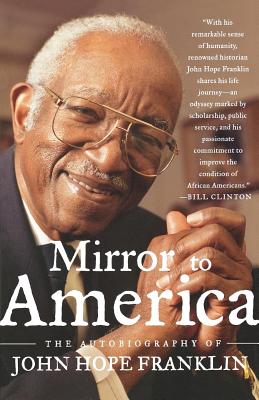 Mirror to America
The Autobiography of John Hope Franklin
Paperback

* Individual store prices may vary.
Other Editions of This Title:
Digital Audiobook (11/14/2005)
Hardcover (10/13/2005)
Description
John Hope Franklin lived through America's most defining twentieth-century transformation, the dismantling of legally protected racial segregation. A renowned scholar, he has explored that transformation in its myriad aspects, notably in his 3.5-million-copy bestseller, From Slavery to Freedom. Born in 1915, he, like every other African American, could not help but participate: he was evicted from whites-only train cars, confined to segregated schools, threatened—once with lynching—and consistently subjected to racism's denigration of his humanity. Yet he managed to receive a Ph.D. from Harvard; become the first black historian to assume a full professorship at a white institution, Brooklyn College; and be appointed chair of the University of Chicago's history department and, later, John B. Duke Professor at Duke University. He has reshaped the way African American history is understood and taught and become one of the world's most celebrated historians, garnering over 130 honorary degrees. But Franklin's participation was much more fundamental than that.
From his effort in 1934 to hand President Franklin Roosevelt a petition calling for action in response to the Cordie Cheek lynching, to his 1997 appointment by President Clinton to head the President's Initiative on Race, and continuing to the present, Franklin has influenced with determination and dignity the nation's racial conscience. Whether aiding Thurgood Marshall's preparation for arguing Brown v. Board of Education in 1954, marching to Montgomery, Alabama, in 1965, or testifying against Robert Bork's nomination to the Supreme Court in 1987, Franklin has pushed the national conversation on race toward humanity and equality, a life long effort that earned him the Presidential Medal of Freedom, the nation's highest civilian honor, in 1995. Intimate, at times revelatory, Mirror to America chronicles Franklin's life and this nation's racial transformation in the twentieth century, and is a powerful reminder of the extent to which the problem of America remains the problem of color.
Praise For Mirror to America: The Autobiography of John Hope Franklin…
"John Hope Franklin is a true role model. He embodies the native optimism, i.e., that one can go from slavery to freedom, from ignorance to intelligence, can experience cruelty, yet manifest kindness. In Mirror to America, each citizen can see herself and himself, reflected in the life of this great American." —Maya Angelou
"Mirror to America: The Autobiography of John Hope Franklin is an astonishing beautiful, deeply intelligent record of an extraordinary life. Required reading lest we forget what is possible in a race-based society." —Toni Morrison, winner of the 1993 Nobel Prize in Literature
"With his remarkable sense of humanity, renowned historian John Hope Franklin shares his life journey – an odyssey marked by scholarship, public service, and his passionate commitment to improve the condition of African Americans and their relations with their fellow citizens. Through candid stories of Franklin's relentless pursuit of equality, Mirror to America calls upon all Americans to look at our nation's past so that we may destroy the color line that continues to divide our country, and progress together into the future." —President William Jefferson Clinton
"This is the most important autobiography of the year! John Hope Franklin is a national treasure. Mirror to America is cause for a national celebration. For me, and countless others, Dr. Franklin is a mentor and role-model without peer, a man whose clear-eyed look into our past improved America's future. Mirror to America will lift the spirit and steel our resolve for the work ahead." —Vernon E. Jordan, Jr., Senior Manager and Director Lazard LTD and author of Vernon Can Read
"John Hope Franklin's story is a triumphant one, at once a chronicle of America's progress in civil rights over the past ninety years and a stirring reminder of the determination still needed to confront the country's remaining barriers to racial equality. He has inspired his students for decades; now, with Mirror to America, he offers inspiration to us all." —David N. Dinkins, 106th Mayor, City of New York
"John Hope Franklin's Mirror to America is a singular document, a great historian's autobiography that will serve as an indispensable history of our times. Read and reflect, indeed!" —David Levering Lewis, Pulizer Prize winner, Julius Silver University Professor and Professor of History, NYU
Farrar, Straus and Giroux, 9780374530471, 416pp.
Publication Date: October 31, 2006
About the Author
JOHN HOPE FRANKLIN is James B. Duke Professor Emeritus of History at Duke University. He has received dozens of major awards including the Presidential Medal of Freedom for his life-long commitment to Civil Rights.